Hemingway's Garden of Eden
(2010)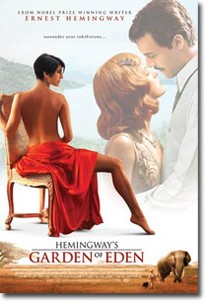 Hemingway's Garden of Eden Photos
Movie Info
Produced for Tranquil Seas by Lorne Thyssen and Timothy J. Lewiston, directed by John Irvin and starring Mena Suvari, Jack Huston, Caterina Murino, Carmen Maura, Richard E. Grant and Matthew Modine, "Hemingway's Garden Of Eden" was adapted from the Ernest Hemingway book by former Paris Review editor James Scott Linville. The book was published posthumously and, when it finally hit the bookstores in 1986, it was an immediate success. It remains one of Hemingway's most debated novels. Set in the jazz age years, prior to the depression, the story follows a successful young American writer, David Bourne (JACK HUSTON), and his beautiful wife, Catherine (MENA SUVARI), on their extended honeymoon in Europe. Catherine soon becomes restless and starts to test her husband's devotion, pushing him to the limits of her imagination. Already unsure of the games his wife is playing, David is both uncomfortable and curious when she brings a sultry Italian girl, Marita (CATERINA MURINO), to spice things up. As the erotic game reaches new levels, the events that follow will change their lives forever. --© Roadside Attractions
Critic Reviews for Hemingway's Garden of Eden
Audience Reviews for Hemingway's Garden of Eden
½
A writer and his wife take up with an Italian woman, and the three form an odd love triangle filled with lust and temptation. Garden of Eden confuses me. I haven't read the novel, but after the film, I want to. From what I can tell from the film, it seems like a first draft -- ideas that Papa plays with but hasn't developed into real characters yet. As Catherine transforms herself and her husband into carbon copies and as Catherine expresses her sexual obsession with Marita, it seems like Hemingway is exploring the slippery nature of sexuality -- how one can experiment with one's sexual identity. But what Hemingway specifically says about this concept remains unclear. It's doubtless that the story David writes -- told in flashbacks starring Matthew Modine -- is a mess. It's Hemingway's fantasies about manhood expressed through hunting and domination over nature. But this story has little to do with the frame story and doesn't give us any significant insight into David's character. Overall, I wonder if the novel is this incomplete because although the film has the beginnings of some interesting additions to Hem's oeuvre, it ultimately doesn't amount to much.
Jim Hunter
Super Reviewer
½
Consider me in the minority, but I actually really enjoyed this film. The acting fits better than I had originally thought and it works on the perfect period piece level of looking and feeling out of this century.
Christopher Haskell
Super Reviewer
Hemingway's Garden of Eden Quotes
There are no approved quotes yet for this movie.