The Genesis Code
(2010)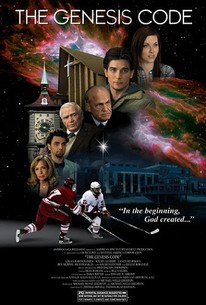 AUDIENCE SCORE
Critic Consensus: No consensus yet.
Movie Info
Kerry Wells (Kelsey Sanders), a college journalist and committed Christian with an effervescent personality, has been assigned to do a story on Blake Truman (Logan Bartholomew) the college's newest and very popular hockey superstar. As a relationship between them begins to develop Kerry finds that Blake, who hides behind a tough and independent façade, is actually struggling through a difficult personal crisis and that he bears the cross of a secret he has kept hidden for years. Blake rebuffs Kerry's suggestion that prayer might help ease his burden; he is convinced that modern science completely disproves the Bible, especially the opening verses of Genesis. Kerry - who is herself suddenly confronted with a challenge to her faith on another front - sets out to prove that science and Genesis are not in conflict and her quest leads to a startling revelation. Could it be that what science teaches us about creation and the Story as told in Genesis are both true and in perfect accord! -- (C) Official Site
Audience Reviews for The Genesis Code
Science and religion have always never really seen eye to eye on things but they have more in common with one another than they think though the views and opinions maybe similiar they just have different ways of interpeting things i found this film to be highly interesting, quite the ingenius story kudos to cast and director
Antwan J. Jones
Confused movie doesn't know if it wants to be a creationism apologetic, social commentary on end of life care, or critique of the "liberal intellectual elite" in higher education. Either way it only succeeds in making a weak subplot based social commentary from the religious point of view. The creationism "science" is the same weak sauce that has been rebuffed and proved false time and again, and the attempted critique very successfully attacks a strawman post-modern liberal elite. This movie is dull, trite, and panders to only one audience only who will lap it up with joy and not examine it critically. Which is what the film makers wanted anyway. Although I suspect the target audience might it find it slow and boring too.
K Newlove
Very good movie. Not bad for a date night. There was a romance plot and a lot of intense debate on major social issues. I am surprised that Hollywood made something like this.
Adam M
The Genesis Code Quotes
There are no approved quotes yet for this movie.
Discussion Forum
Discuss The Genesis Code on our Movie forum!