The Genius Club
(2006)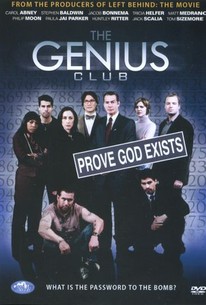 Movie Info
An unprecedented disaster is about to unfold, and in order to ensure the safety of all humankind, a group of high-profile thinkers selected for their stratospheric IQs must come up with a solution to all of the world's problems over the course of one grueling night in writer/director Timothy A. Chey's tense apocalyptic thriller.
Rating:
PG (for thematic elements and some disturbing content)
Genre:
,
Directed By:
Written By:
In Theaters:
On DVD:
Runtime:
Studio:
Critic Reviews for The Genius Club
Audience Reviews for The Genius Club
'The Genius Club' is a true wonder in filmmaking. The film critics who have applauded this film understand the true implications of a world that hates intelligence. The ones who have attacked the film never get to the issues of what the movie talks about. Why is that? Maybe the issues are too deep for these mindless critics so the next best thing is to attack the entire movie's idea - which again shows you the movie critics love being thought of as intellectual, but really can't prove they're intelligent. The issues of why we don't have a cure for cancer, for instance. Read the review. Nada. Issues on why we spent 1.3 trillion on the Iraq War covered in the movie. Again, nada. The hateful critics just steam at the Christianity that's presented in the film. By the way, don't listen to my fellow Christian critic - he's been bashing films for over 10 years and one day someone will slap him with an overdue lawsuit - God-willing.
Janet Velery
As a Christian, I really wanted to like this movie. The acting in this movie is terrible with a "surprise" ending that you can see coming about 30 minutes into the movie. The acting in this movie by Stephen Baldwin and Tom Sizemore is ok, but they do the best they can with this festering pile of steaming dog crap that was the script. The other actors in the movie acheievd a new level, making William Shattner's performance in the Priceline commercials look like worthy OSCAR contenders. The points to this movie also are very liberal; another surprise from a Christian movie. Most Christian movies have no political messege or are leaning on the conservative side. I am still waiting for a Christian movie to be able to attract a wider secular audience; and very few have acheived that. The ones that did were well made and not preachy. This movie also could have ended about 3 times...I got up to go into the kitchen after I thought it was over the first time, to my surprise it still had about 15 min left when I came back
Ben Edens
The Genius Club Quotes
There are no approved quotes yet for this movie.
Discussion Forum
Discuss The Genius Club on our Movie forum!