The Girl
(2012)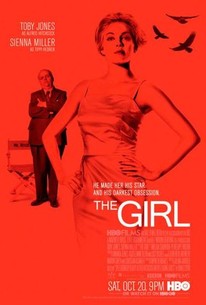 AUDIENCE SCORE
Critic Consensus: No consensus yet.
Movie Info
A look at the relationship between filmmaker Alfred Hitchcock and actress Tippi Hedren.
Critic Reviews for The Girl
All Critics (3) | Fresh (2) | Rotten (1)
Hitchcock biopic reveals dark side of acclaimed director.
Hitchcock fans have vigorously disputed the film's version of events (scripted by Gwyneth Hughes and sanctioned by the now-82-year-old Hedren herself), but on screen it makes for gripping viewing.
Uses the perils of immigrating to this country without papers as a backdrop for a poor white American woman's bumpy path to enlightenment.
Audience Reviews for The Girl
½
Setting aside the intricacies of the actual events that took place, this film just isn't as well constructed as its contemporary "Hitchcock." Most of what I found wanting in this film were the performances from both Jones and Miller, who come off as stiff, unyielding caricatures of Hedren and Hitchcock. Besides that I just didn't find the plot to be very suspenseful. The relationship between these two iconic figures just didn't play well onscreen. It's unsettling and mostly creepy to watch Hitchcock stumble through his yearnings for Hedren. There's supposed to be some level of warmth and comradery to their relationship, since they stick together long enough to make "The Birds" but I didn't get that at all. There's very little point to making this film, as much of it is unsubstantiated, or so subtle that it's unwatchable. I don't believe I am completely biased, I just didn't enjoy watching a relationship that didn't seem obsessive, only abusive. If Hitchcock had been better portrayed, and all his obsessions really gone into, this would have been much more sinister and reflect what the filmmakers were going for.
Spencer S.
Super Reviewer
Good movie. True? I don't know. I have read some things stating that she may have made some, or most, of it up. Still a decent movie that I found very interesting, though. It makes complete sense to me that Alfred Hitchcock was a strange man. He had to be to develop the type of movies that he did...
Cynthia S.
Super Reviewer
Hitchcock is a better film but the Girl is worth checking out as well. Toby Jones makes a good Hitchcock even if he makes him seem strange and creepy. What I mostly like is the insight on the making of the Birds.
The Girl Quotes
There are no approved quotes yet for this movie.