The Glamorous Life of Sachiko Hanai
(2003)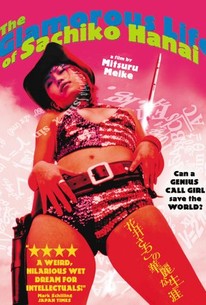 Movie Info
A sexy call girl becomes the flashpoint of an international incident after inadvertently coming into possession of a curious artifact with the power to unleash Armageddon on a world consumed by chaos. Sachiko Hanai makes a living by fulfilling the fantasies of men who always longed to make love to their teachers. One day, upon wandering into a local coffee house, the unsuspecting sexpot sets off a violent gun battle between two groups of gangsters involved in some seriously shady dealings. As the guns are drawn, Sachiko attempts to run for cover but instead ends up directly in the path of a stray bullet. A smoking round lodged firmly in her forehead, the dazed prostitute stumbles out into the street as one of the gangsters furtively slips a mysterious metal canister into her purse. When Sachiko's attempt to remove the bullet with an eyeliner pencil cause her synapses to start firing on overdrive, she rapidly gains the ability to speak multiple languages and solve complex mathematical equations. Little does the unsuspecting prostitute realize that the canister dropped into her purse contains the severed finger of the U.S. president - the fingerprint of which possesses the potential to send the entire nuclear arsenal of the powerful Western nation soaring into the skies. Originally released as a routine pinku eiga entitled Horny Home Tutor: Teacher's Love Juice, the film was subsequently expanded into an ambitious anarchic satire of world politics by director Mitsuru Meike and screenwriter Takao Nakano.
Critic Reviews for The Glamorous Life of Sachiko Hanai
Audience Reviews for The Glamorous Life of Sachiko Hanai
As a soft core porn movie, its pretty good!! Yes, plot is outrageous and bizarre, but the acting is decent and the pacing of the film moves at a rather brisk clip. One thing for sure, it does entertain as long as nudity and alot of sexual situations does not put you off. I thought the ending was a bit predictable for such a zany story, but it will hold your interest.
The Glamorous Life of Sachiko Hanai Quotes
There are no approved quotes yet for this movie.