The Gospel According to Philip K. Dick
(2001)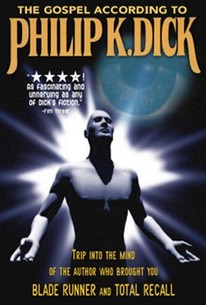 The Gospel According to Philip K. Dick Photos
Movie Info
This documentary feature chronicles science fiction author Philip K. Dick, who was famous for creating tales that centered around questions of identity, often pertaining to the real versus unreal and human versus machine. In the film, several luminaries discuss Dick's impact on society and how it affected popular art, such as Robert Anton Wilson, author of the Illuminati trilogy, and Paul Williams, who profiled the author in a 1974 Rolling Stone article that was a catalyst for his elevation amongst fans. Considered an underground writer, Dick built a steady fan base of devout readers and ardent admirers. Just before his period of recognizable fame, the author (portrayed here as a recreational drug user) was burgled and his private safe was blown open with explosives; the vault was later widely believed to be stashed with heroin, with the heist possibly masterminded by a young addict -- who could have been among the group of young people Dick frequently harbored in the early 1970s. Dick also attempted suicide, and firmly believed the "Xerox missive" (a letter) would contribute to his death. At the end of his career, the author was plagued by visions that all but forced him to give up on his "Exegesis," a tome equaling roughly over 10,000 pages that detailed his ruminations on the meaning of life. The Gospel According to Philip K. Dick includes audio clips of interview subjects and animated interludes of the interviews portrayed.
Rating:
NR
Genre:
, ,
Directed By:
In Theaters:
On DVD:
Runtime:
Studio:
Critic Reviews for The Gospel According to Philip K. Dick
Audience Reviews for The Gospel According to Philip K. Dick
Talking heads reminiscing. Meager biographical content. Puerile production values. The communication of three trivial facts burns off the entire first hour of the film: PKD did drugs, PKD once had his safe broken into, PKD had a hallucinogenic experience after he had his wisdom teeth out. Eject, eject, eject. What would cause a producer to think this "work" could qualify as a biopic is beyond me.
TonyPolito Polito
I don't know a lot about Philip K. Dick's personal life and this was not a good place to start. The film begins by discussing a break-in at Dick's house where "something" was stolen from a safe. Not knowing the author's history it took me a long time to understand why this was at all significant. Also, the device of an animated man writing on a typewriter and then having the camera show what he'd written was very cumbersome and slowed down the film. I didn't finish watching this one. Maybe I'll come back to it after I'm more familiar with the author.
Amy D.
The Gospel According to Philip K. Dick Quotes
There are no approved quotes yet for this movie.
Discussion Forum
Discuss The Gospel According to Philip K. Dick on our Movie forum!