The Grand Heist (Baramgwa Hamjje Sarajida)
(2012)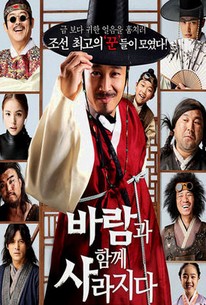 AUDIENCE SCORE
Critic Consensus: No consensus yet.
The Grand Heist (Baramgwa Hamjje Sarajida) Photos
Movie Info
During King Yeongjo's reign, ice is more valuable than gold. When corrupt officials conspire to form a monopoly and fix the prices, 11 "professionals" with a certain set of skills team up to stop the corruption!
Critic Reviews for The Grand Heist (Baramgwa Hamjje Sarajida)
All Critics (1) | Fresh (1) | Rotten (0)
The Grand Heist maintains its tone of madcap rambunctiousness, while allowing its thieves to be, or at least to become, true Korean patriots with a grand political cause and an East-meets-West sensibility (the latter shared with the film itself).
Audience Reviews for The Grand Heist (Baramgwa Hamjje Sarajida)
Boy, oh boy how it's good to see a South Korean movie without a sliver of melodrama forced in there. There is some drama here, of course, but, thankfully, it's saved for the beginning of the film and it's never actually unbearable to watch. It's good to just be able to enjoy a film without worrying about the more maudlin elements these films tend to give in to. And honestly, because of that, I had a blast watching this movie. I might've given it, only, three stars but I legit had a really fun time watching this film. It's really a combination of a lot of stuff, because the film, really, is mostly the heist planning and I could take it or leave it. I mean it's not bad, but it definitely doesn't offer the best of the film. It's definitely alleviated by a really talented cast and makes it easier to watch. I don't wanna say that the exposition is confusing, but if you don't pay attention, and you're unfamiliar with Korean names, then a lot of this will be really fucking confusing to you. But, really, I don't think they do a great job at keeping the planning of the heist itself focused enough, with a lot of information being thrown out there in a haphazard manner. What the film does do really fucking well, however, is the actual heist itself, which is when it really kicks into next gear. It's not like it's as thrilling as the train heist from Breaking Bad, but everything from the heist to everything after is really fucking entertaining. So that, to me, elevated pretty much everything else. Again, the planning, while made entertaining by a real good cast, wasn't that great. That's the only real complaint I have about the film, that it isn't consistently entertaining or that focused. If it had been, I can see myself giving this movie a higher rating for sure. Because even with those issues, I still had a really fun time watching this movie. So it's obvious I'd have liked it even more if the issues I had were tightened up. It's actually to the point where I wouldn't mind seeing a sequel to this movie and I don't say that often. And it's not like a sequel where you fix all of the flaws and perfect the formula, though that's part of it, I just liked the cast that much to where I want to see them get together again, just to see them again. I'm assuming that this film wasn't hugely successful or else we'd have gotten a sequel by now. Not that it's much of an issue, since I've seen a lot of these actors appearing in different movies together, but other movies might adhere to the melodramatic and hysterics that I really hate. I just wanna see them in this type of movie, where it, while having some drama, keeps a fun tone. With that out of the way, I had a real fun time with this, even though I thought it had a lot of flaws. I'd recommend it, but it's not really something that you need to go out of your way to see, there's better movies to see out there, but this will still keep you entertained, if that's what you're looking for.
Jesse Ortega
Super Reviewer
The Grand Heist (Baramgwa Hamjje Sarajida) Quotes
There are no approved quotes yet for this movie.