The Great McGinty
(1940)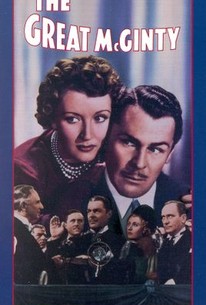 Movie Info
The moral of Preston Sturges' first directorial effort The Great McGinty seems to be: If you're a crook, stay a crook, because honesty will get ya every time. Brian Donlevy plays Dan McGinty, a Chicago hobo who is hired by local political bosses as a "professional voter", casting ballots under a variety of assumed names in various districts. McGinty chalks up $74 worth of votes, and when local ward heeler William Demarest can't pony up, McGinty takes direct action by trying to beat up The Boss (Akim Tamiroff). Though the two men can't get through an entire day without trying to kill each other, McGinty and the Boss are impressed by each other's raw abilities and become political partners. Through the Boss' patronage, McGinty works his way up to the mayor's office, with his politically expedient bride (Muriel Angelus) at his side. Though he never goes so far as to fall in love with his "arranged" wife, Donlevy is fond of both her and her children by a previous marriage, and for their sake he begins to reform--much to the dismay of the Boss. With the Governor's mansion within his grasp, McGinty makes the fatal error of fessing up to a graft-ridden bridge contract. It is this impulsive moment of honesty, rather than any of his past crimes, that gets McGinty thrown in the slammer, sharing a cell with the blood-in-his-eye Boss. Demarest separates the two combative men long enough to arrange an escape to South America, but not before McGinty has assured the financial security of his wife and family. The story is told in flashback form in a seedy South American dive, where McGinty works as a bartender and the Boss is the manager. The film ends with the two friendly enemies duking it out over a minor infraction, while bouncer Demarest looks on in disgust. Sick to death of watching other directors mangle his screenplays, Preston Sturges sold this rollicking political satire to Paramount only on the condition that he be allowed to direct (for the princely sum of $10). Paramount hedged its bets by giving Sturges a slim budget and inexpensive stars; as a result, the film made back its cost several times over, and Preston Sturges' directorial career was off and running.
Critic Reviews for The Great McGinty
Audience Reviews for The Great McGinty
Not as biting in the dialogue as some of Preston Sturges' other stuff, but it is still very humorous and the satire is spot-on. I didn't really like the framing device used for the narrative, but it did allow for a bit of a joke at the end. Overall, I enjoyed it.
Jeff Bachman
½
Solid political satire that breezes by on the charm of its fevered storytelling. Great McGinty appears to fall somewhere in between the Capra idealism of Mr. Smith Goes To Washington and the 1970s pessimism of The Candidate; a tricky balancing act, indeed. A level of leniency is needed to swallow McGinty's political progression, but sharp power struggles and a compelling, multi-layered lead make for a good picture.
Trent Johnson
The Great McGinty was Preston Sturges' directorial debut; he famously sold the script - which went on to win him an Oscar - to Paramount for $10, on the condition that he could direct the movie himself. In a seedy bar in a banana republic, Dan McGinty (Brian Donlevy) recalls his meteoric rise (and spectacular fall) from bum to racketeer, to crooked mayor, to honest state governor and back to bum again. By staging his story as a post-catastrophic flashback from skid row, Sturges neatly undermines the sentimentality and predictability of McGinty's romance with Catherine (Muriel Angelus), the secretary he marries out of convenience, but the lack of a Happy Ending makes the picture oddly unsatisfying. This problem is emphasised by the economical running time; clocking in at a little over 80 minutes, McGinty's end credits begin to roll at about the time we would typically anticipate that final twist enabling the leads to live happily ever after.
The Great McGinty Quotes
| | |
| --- | --- |
| The Politician: | If it weren't for graft, you'd get a very low type of people in politics. |
Discussion Forum
Discuss The Great McGinty on our Movie forum!