The Greatest Showman
(2017)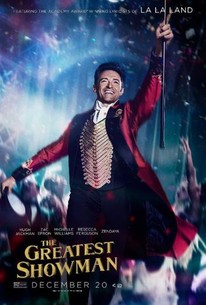 TOMATOMETER
AUDIENCE SCORE
Critic Consensus: The Greatest Showman tries hard to dazzle the audience with a Barnum-style sense of wonder -- but at the expense of its complex subject's far more intriguing real-life story.
The Greatest Showman Videos
The Greatest Showman Photos
Movie Info
Inspired by the imagination of P.T. Barnum, The Greatest Showman is an original musical that celebrates the birth of show business & tells of a visionary who rose from nothing to create a spectacle that became a worldwide sensation.
News & Interviews for The Greatest Showman
Critic Reviews for The Greatest Showman
Audience Reviews for The Greatest Showman
½
Glossing over all the controversies surrounding the real P. T. Barnum, this is an overly sanitized musical with no ambition and made for easy consumption. Full review on filmotrope. com
Carlos Magalhães
Super Reviewer
It's rare to see an original musical given this sort of stage and attention. We usually reserve this space for tried-and-tested properties from Broadway or whatever animated film Disney has deigned to remake for an extra billion dollars in goodies. Another question is whether the movie will make the use of its big screen potential, as we've been inundated with smaller-scale musicals that are satisfying but lacking in an awe-inspiring sense of scale. The Greatest Showman is a big, splashy, 80s-styled Broadway musical that deals with big moments, big characters, and big emotions. It wears its mighty sincerity on its sleeve and challenges you not to get swept away with all of its charming pomp and circumstance, and for the most part I did just that. P.T. Barnum (Hugh Jackman) is an unemployed salesman trying to provide a life of luxury and imagination to his wife Charity (Michelle Williams) and two daughters. He opens a theater in New York City and hires folks with unique appeal, a bearded woman (Keala Settle), a little person dressed as Napoleon, other so-called "freaks" and several trapeze artists. The show garners some controversy but still attracts a crowd. He reaches out to a rich playboy Phillip Carlyle (Zac Efron) to better shore up the finances. Phillip is reluctant but eager to step away from the pull of his parents, which includes falling in love with Anne (Zendaya), a trapeze performer. Barnum achieves enough success to force his way into the moneyed world of New York high society but he doesn't feel they accept him, so he reaches out to renowned opera singer Jenny Lind (Rebecca Ferguson) and convinces her to come to America. Barnum plans a cross-country tour for his newest star and plans on going with, soaking up every standing ovation from the upper class. With his focus distracted, Barnum is in danger of losing those closets to him. This is a loving throwback to those old Broadway days and it succeeds admirably on the big screen, taking its circus setting and opening up the space. There's a rooftop dance among hanging sheets that reminded me of classic Rogers/Hammerstein. I was particularly fond of the choreography of two duets, both with Efron. The first, "The Other Side," he is being wooed by Barnum in a bar and the two men circle each other in negotiations, eventually jumping on tables, the bar top, and pounding and sliding shot glasses to naturally match with the percussive elements of the catchy song. The "Rewrite the Stars" lovers' duet is playful and romantic as envisioned in its location, the center ring of the show. Zendaya swings along ropes, rings, and weights, making their "will they won't they" songs a literal flirtatious dance, their orbits getting closer to one another, and the tagging makes the emotions of the song feel even larger and more resonant. If you're a fan of the unabashed, big audacious musicals of old with a sincerity that could approach mawkish, then you'll definitely be in for a treat with what The Greatest Showman offers. Reading that the Oscar-winning musical team behind the listless tunes from La La Land was the ones cooking up the original Showman songs did not inspire me with confidence. Well, apparently what they really needed was people who could sing and a canvas that allowed for a wider array of musical instrumentation. The songs mimic the movie in its presentation of exploding emotions and earnestness, and the big group numbers have a habit of feeling very kitchen sink in their melisma. It's all the notes, all at you, with a thundering backbeat, and it can be a little overpowering at first to process, but eventually you adjust to its ecstatic rhythms. The opening number "The Greatest Show" threw me for a loop, with quick audience foot stomps cut with a millennial whoop and then laid over a dozen other musical tracks. It hits you hard but serves as a fine introduction, teasing you about the world to come and Barnum's showcase. The song is also emblematic of my biggest quibble with what is otherwise rousing musical numbers insofar that it's overproduced. There are solid melodies with each song and its reprise; however, it feels like the arrangements cannot settle on when to stop adding stuff. The songs can feel cluttered, weighed down by the added production. Barring that, it's 39 minutes of original music that puts the Oscar-winning La La Land to shame. With any musical, different numbers will strike people differently, so I'll highlight some of my favorites. The aforementioned "The Other Side" has a playful jaunty beat that builds and builds, nicely lending itself to showoff moments for Jackman and Efron as they try and outsmart and eventually out dance (the musical equivalent of persuasive speaking?) one another. the lyrics are also sharp ("I live among the swells/ We don't pick up peanut shells"). It's also a nice change of pace from the anthems and ballads that populate much of the soundtrack. Speaking of ballads, "Never Enough" might come from the least important character in the overall story but my goodness does Voice alum Loren Allred, providing vocals for Ferguson to lip synch, give it such a wallop. The emotion in the singing is crystal clear and made me wince because it's so good. I'm one of those crazy people who care more about the performances in my big screen musicals than hitting all of the correct notes (see: Les Miserables), but it's nice when a performer can grant you both. There's no shame in lip-synching, La La Land. "Tightrope" is Williams lamenting her martial changes but the real revelation is her singing. She takes a fine song and makes it better. The song getting the most awards attention is the anthemic "This is Me" about accepting one's self like a "Let it Go." Keala Settle takes complete ownership with her booming vocals and passionate intonation. It's a calling for all outcasts and delivers the inspirational groundswell into a millennial whoop pinnacle. There wasn't a song that didn't engage me at some level, either musically, performance-wise, or even presentation, and that's one of the most important aspects for a musical. Jackman (Logan) might just be blessed with more charisma than anyone on the planet, and so when he has that twinkle in his eye, you're willing to go on whatever journey with the man. This has been a passion project of his for years and Jackman and he puts his all into being a captivating conman who can get high on his own hokum. He's leaping off the screen to entertain and his dexterity and natural showmanship parlay well into bringing great, bustling life to his character. Efron (Baywatch) is an appealing actor who can so easily pull you in with his adeptness at comedy, acting, dinging, and dancing. It's been a while since Efron hoofed it up on the screen and he hasn't missed a step. Zendaya (Spider-Man: Homecoming) is a born star. She has a moment late in the film where her hoarse voice repeats the chorus of "Rewrite the Stars" and she pushes it from being cheesy into being touching. Williams (All the Money in the World) is better than her underwritten material affords and brings warmth to her understanding, doting wife. For fans of the excellent Netflix series GLOW, which is also all about showmanship, that's Sheila the She-Wolf as a young Queen Victoria (Gayle Rankin) greeting Barnum. Now, the direct sincerity of the entire production is somewhat called into question by its very sanitized approach to P.T. Barnum. One way of looking at his "freak show" was that he was empowering the less fortunate and providing a safe space for them to call a community and earn a wage in a discriminatory job market. Barnum gave them a sense of dignity. Another way of looking at it is that Barnum was exploiting people who had no other options and selling tickets for the public to indulge its morbid curiosities. Barnum is a fascinating figure before he even conjures up the idea for his circus. He was an abolitionist who dropped out of school at fifteen, owned and operated a newspaper by age 21, was jailed for libel, exposed a credit scheme to gain his theater, four in the Civil War, and was a purveyor of any ridiculous and ghastly theatrical stunt, including an enslaved African woman's autopsy to prove she was really 160 years old. Barnum is a complicated historical figure with a wealth of anecdotes that would make great storytelling potential. The movie invents a Barnum for an invented tale, which isn't necessarily a problem except that what we get is absurdly simplistic in comparison to the complex source. Barnum becomes a poor kid with great aspirations, most of which seems to be either joining the rich elites or sticking it to them and their snooty sensibilities. Likewise, being a champion of the "freaks" is naively unsophisticated for a man as craven for publicity as Barnum. The simplicity also extends into the supporting characters that have meager morsels to work with considering the considerable attention Barnum draws. An interracial romance between Phillip and Anne has tremors of importance but falls back on easy signifiers lacking greater examination, like Phillip's agog family response to him being interested in "the help." It's a shame because Efron and Zendaya are terrific together and a simple gesture like reaching out to hold hands can have such power. Charity is the put upon wife we see all-too often in the stories of Great Men, and her domesticity represents the source of Barnum's true happiness. You see, dear reader, Barnum's character arc is that he wants to stick ti to the rich elites, than he wants to be accepted by them, and then he learns the errors of his ways and goes back to appreciating his family and life's smaller pleasures, those pleasures are still living comfortably. It's a strange stop-and-smell-the-roses sort of lesson, and it's even weirder when Barnum seems to lose interest in his community of performers he's gathered. The subplot where Barnum abandons his theater to tour with Jenny Lind feels both obvious and unnecessary. The only tension is whether or not there will be an affair, and the impact of Jenny Lind seems overall fleeting, forcing conflict in contrived fashions. For a man whose life story was writ large and fascinating, The Greatest Showman conjures a sedate replacement. As I was watching and smiling to the soaring emotions and tunes, I kept thinking how 17-year-old me would have likely tore this movie to shreds, lambasting its earnestness as a mawkish attempt to wring out a feel-good story from a questionable source. 17-year-old me would have snickered about how gloriously unhip The Greatest Showman is. Mid-30s me has a much easier time not just accepting sincerity but also appreciating it. The performances are charming, the performers able, and the songs slyly catchy. The story of P.T. Barnum is sanitized with mixed results but the ebullient feeling coursing through this film is undeniable and worked its magic over me. If you've been missing the big Broadway musicals of old, The Greatest Showman will be a three-ring treat. Nate's Grade: B
Nate Zoebl
Super Reviewer
½
Why can't the world be a happy place where everybody breaks into dance and song while wearing colorful costumes? Like many other musicals, this is the world presented to us in The Greatest Showman, a historical musical directed by Michael Gracey. And while I don't think it necessarily deserves the Golden Globe nomination for Best Picture in the Musical or Comedy category, it is still an enjoyable and livening experience. The Greatest Showman tells the story of P.T. Barnum, portrayed charismatically by Hugh Jackman, and his ventures into show business and stardom in the 1800s. He is joined by Michelle Williams, who plays his wife, Zac Efron, who portrays his business associate Phillip Carlyle, Zendaya, who plays a trapeze artist, and Rebecca Ferguson, who portrays Jenny Lind, a singer who performs for Barnum's show. I can say without hesitation that the cast does a solid job in the film, and there are not any performances that I was able to single out as "bad." Hugh Jackman stands out especially in his role as Barnum, and he shines in the part with an uncharacteristic amount of charm and lovability. The best part about The Greatest Showman is, without a doubt, its musical numbers. The film stands out with its colorful and memorable songs, as well as impressive choreography and cinematography during the songs' accompanying scenes. These scenes wring out plenty of happy emotions and present a plethora of awe-inspiring shots and visuals, something that I hope is acknowledged at the upcoming Academy Awards ceremony. After leaving the theater, I considered buying the soundtrack for the movie, an act that I rarely consider. The film's one major flaw arises roughly halfway through its runtime, and it remains a problem until its climax and conclusion. The real-life story of P.T. Barnum is complicated and fascinating, so synthesizing that story into a musical was sure to present some issues. In this case, those issues are primarily: messiness. During its second act, it begins to lose much of its focus and starts to devote time to various subplots. Some of these are necessary and are resolved before the film's conclusion, but some of them (like a rushed romance between Zac Efron's and Zendaya's character) only existed to clutter the plot and add some extra songs into the musical score. This made it much harder to enjoy The Greatest Showman until its conclusion, which does surprisingly well at wrapping up the story considering the messy plot that preceded it. Aside from its muddled middle-chapter, The Greatest Showman is an entertaining and lively film. It explores unique themes, provides catchy and smile-inducing songs, and features a cast of fun characters. As someone who does not watch many musicals, I thoroughly enjoyed the film and would surely watch it again. The Greatest Showman gets 3 1/2 out of 5 stars.
Paul Fuchs
Super Reviewer
The Greatest Showman Quotes
There are no approved quotes yet for this movie.
Discussion Forum
Discuss The Greatest Showman on our Movie forum!