The Green
(2011)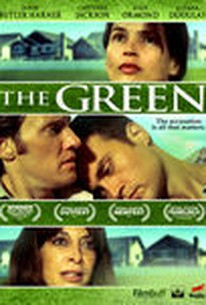 AUDIENCE SCORE
Critic Consensus: No consensus yet.
Movie Info
A gay teacher at a private high school in Connecticut finds his career and personal life in jeopardy after being accused of inappropriate conduct with a male student. All Michael wanted was a place to make a home with his partner Daniel, the owner of a small catering business. He thought that if he just maintained a low profile his sexuality wouldn't be an issue. But when a troubled student levels a serious accusation at him, Michael discovers that homophobia still runs rampant in his quiet, sheltered community. Later, things go from bad to worse for Michael when the student runs away from home, prompting his financially destitute mother and her opportunistic boyfriend to tray and make some quick cash over the controversy.
Critic Reviews for The Green
All Critics (3) | Fresh (2) | Rotten (1)
Bare-budget drama of gay male couple whose "accepted" existence in a small Connecticut town gets overturned when the teacher half is accused of impropriety.
Three-fifths of a good movie -- a generally well sketched drama that fumbles away its accrued admiration late in the third act, with a twist that feels like a sop to audiences of small screen procedurals.
Worth tracking down to its digital release platforms..It will force you to deal with prejudices you may not even know you had.
Audience Reviews for The Green
½
It's never a good sign for a movie when you like the supporting cast more than the lead but that was the case for me here. Good actors Illeana Douglas, Karen Young and Cheyenne Jackson are given too little screen time and not much too work with, the same is true of Julia Ormond but she does register more strongly than the rest. The lead character is poorly defined and often acts in a manner that is overly naive and at times downright stupid.
The Green Quotes
There are no approved quotes yet for this movie.