The Guatemalan Handshake
(2006)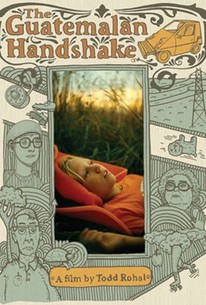 Movie Info
A demolition derby driver (Will Oldham) has vanished into the darkness following a massive power outage, setting into motion a bizarre series of events that will profoundly effect everyone from his pregnant girlfriend to a troupe of roving boy scouts and a ten year old girl named Turkeylegs. Later, as Turkeylegs sets out to track down her missing friend, cars kick-up dirt while driving in circles, a woman attends her own funeral, and an orange vehicle repeatedly changes owners. The one night, at a massive demolition derby, the lives of everyone involved are sent spiraling in different directions.
News & Interviews for The Guatemalan Handshake
Critic Reviews for The Guatemalan Handshake
Audience Reviews for The Guatemalan Handshake
After her boyfriend goes missing a pregnant woman with dozens of sisters all from different mothers enters a demolition derby against her Guatemalan father... and that's just one of many plotlines running concurrently in this bizarre rural community. How to describe this unique movie: maybe it's like what would happen if Wes Anderson rewrote GUMMO as a quirky comedy?
In "The Guatemalan Handshake," Donald(Will Oldham) disappears during a power outage. Two weeks later, his girlfriend Sadie(Sheila Scullin) asks to stay with his father(Ken Byrnes) when she shows up with a broken arm and pregnant after her father(Ivan Dimitrov) kicks her out of the house.(She is not lying when she says she has dozens of sisters as the family car is a school bus.) Wanting to move on, Sadie is introduced to Stool(Rich Schreiber) at the local roller rink where she accidentally breaks his nose. "The Guatemalan Handshake" is an odd comedy with a sense of humor that is occasionally unkind towards its peculiarly named characters. Otherwise, it does tend to celebrate these outsiders' uniqueness. In the end, the movie is salvaged by its offbeat charm.
Although this indie starring Will Oldham starts off interesting enough, adept visuals setting up the more bizarre aspects of a small town's inhabitants, the let down is only moments away. That kind of letdown that some American independent films pride themselves on, it's straining of content for it's surrealistic comedic elements that seem uncommercial but what you end up with is simply a film that excels at being quirky for quirky sake. It's character's so one dimensional they lend nothing to it's paper thin storyline.
Generoso Fierro
The Guatemalan Handshake Quotes
There are no approved quotes yet for this movie.
Discussion Forum
Discuss The Guatemalan Handshake on our Movie forum!