The Gundown
(2011)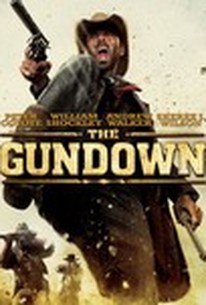 AUDIENCE SCORE
Critic Consensus: No consensus yet.
Movie Info
In 1889, a reclusive gun-for-hire, Cole Brandt, travels the barren Arizona desert bringing wanted fugitives to justice, dead or alive. He drifts from town to town, hunting down and seeking revenge on the men who killed his wife and child five years prior. When his travels take him to the lawless town of Dead River, he signs on to protect The Majestic Saloon, owned by Thomas Morgan and his wife, Sarah. Brandt soon meets a beautiful, innocent prostitute, Cassey May, who works at The Raven, the local brothel and hotel. Travis McCain, the owner of The Raven, is an outlaw who has taken control of Dead River, leaving the residents to live in fear of McCain and his rouge group of men. McCain soon learns about the relationship between Brandt and Cassey May, and threatens Cassey May with her life. Cassey May defies McCain, escaping The Raven, seeking protection with Sarah and Brandt at The Majestic Saloon...
Rating:
R
Genre:
,
Directed By:
Written By:
In Theaters:
On DVD:
Runtime:
Studio:
Anderson Digital
Critic Reviews for The Gundown
There are no critic reviews yet for The Gundown. Keep checking Rotten Tomatoes for updates!
Audience Reviews for The Gundown
½
120902: B Western that seemed to start very well. Cool sound effects, violent shootout and deaths right out of the gate. Then into a rambling, generally pointless meandering story. I was surprised by the use of the F word throughout. I didn't know, and was again surprised to learn you can sniff the face of a female to determine if she is a lesbian (hey, I didn't add this to the story). Again, some neat shootouts, weapons and bad guy characters but terrible acting, in particular Allison Gordon. And what's with Sheree Wilson's lips?
John Redshaw
½
If you love westerns, this movie is probably not the one you've been looking for. Utterly forgettable, shallow and absolutely predictable. There is nothing whatsoever redeeming about this film. If the Western genre were a herd of cattle, this film would be close to the rear, stumbling with dysentery, just ahead of the snarling coyote pack. If you've already watched every other western film ever, it's 3am and you're drunk, then this might be the film for you.
Lex Python
A low budget film that takes a nose dive and continues into the abyss. It started out good, then quickly tail dives. All the good acting (and believable characters, vice two) are gone within the first 15 minutes of the movie. At first I thought perhaps it's just a bunch of actors playing "Ole West," so they could where a few "period" costumes. Unfortunately, all the supporting cast was on board, but he main characters were not. I don't know what was up with the "BAD" guy and his all black ensemble or his villainous girl friend, but it did not go with the rest of the cast. Perhaps it was homage to the old western B-movies, if so, they did no justice and should be lynched. Regardless, the true failure in this movie is the script. It failed, especially when it needed it the most. Perhaps it was the delivery or the acting, in any case, the lines and words coming out of the main characters were almost laughable (if they were, it would have been a good comedy). There are better westerns, even better B-Movie and Spaghetti westerns out there. Pick one of those up instead, skip this one.
Chuck S.
The Gundown Quotes
There are no approved quotes yet for this movie.
Discussion Forum
Discuss The Gundown on our Movie forum!