The Guys
(2003)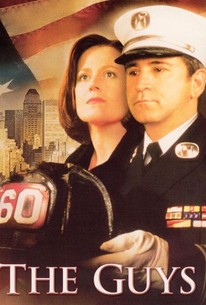 Movie Info
Adapted from a stage play by Anne Nelson, a drama centering on a slice of the aftermath of the 9/11 tragedy. Nick, a fire captain, who lost eight men in the collapse of the World Trade Center, enlists help from an editor, Joan, to prepare their eulogies. Nick builds a relationship with Joan, who helps him put together the difficult, heartfelt speeches that he must deliver with honor, humor and poise--all the while, navigating his way through his own emotional response.
Critic Reviews for The Guys
Audience Reviews for The Guys
Virtue can be a hell of a thing for a film. Not so The Guys, adapted from the stage play by Anne Nelson that she wrote as a response to 9/11. Sigourney Weaver is touchingly moving as a New York journalist helping a fire captain (Anthony LaPaglia, excellent) compose eulogies for all the men he lost on that day. The film, like the play, is just two people talking. That's it. But director Jim Simpson skillfully gives the story a beat and a pulse for its grieving heart. Wonderful.
Manny Casillas
This is a tough movie to comment on, because i want to like it as i love Anthony Lapaglia and Sigourney weaver is amazing in this but it is a slow movie, really emotional and depressing and just not very much going on, i think they could of added a bit moreto this movie but it was nice to see a different view from what happened on 9/11! This movie reminds me of Flight 93 also known as United 93 although not very much going on a bit slow and you could say boring but its harsh to say this when its based on real events and is truly sad. Like Flight 93 at the end it made me blubber it dedicated the movie to the fallen firefighters and listed every single one of there names and it got really emotional and sad! Anthony Lapaglia plays a chief fireman who is ment to write something for memorials of his fallen men but cant think of anything to write so he asks for a journalist played by sigourney weaver for her help and between them they write speeches! This movie is majority set in weavers house with just te two of them talking! If you want excitement then this isnt the movie for you! Really this film isnt predictable becuase its hard to see where this movie is going because you sort expect more from this movie but it just doesnt cut it! i guess its worth a watch because it is a short movie and does get emotional!
Film Crazy
Super Reviewer
A good movie but a really odd choice of a movie to make.
Sunil Jawahir
Super Reviewer
The Guys Quotes
There are no approved quotes yet for this movie.
Discussion Forum
Discuss The Guys on our Movie forum!