The Hallow (The Woods)
(2015)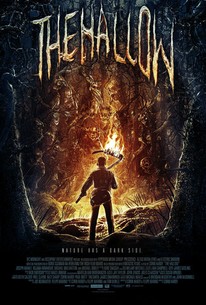 TOMATOMETER
AUDIENCE SCORE
Critic Consensus: Drenched in dark atmosphere and bolstered with some real emotion underneath all the chills, The Hallow suggests a wonderfully horrifying future for director Corin Hardy.
The Hallow (The Woods) Videos
The Hallow (The Woods) Photos
Movie Info
Deep within the darkness of secluded forest land in rural Ireland dwells an ancient evil. Feared by the nearby superstitious villagers as cursed creatures who prey upon the lost, their secrets have been kept from civilization and remain on their hallowed ground. But when a conservationist from London moves in with his wife and infant child in order to survey the land for future construction, his actions unwittingly disturb the horde of demonic forces. Alone in a remote wilderness, he must now ensure his family's survival from their relentless attacks. -- (C) IFC Midnight
News & Interviews for The Hallow (The Woods)
Critic Reviews for The Hallow (The Woods)
Audience Reviews for The Hallow (The Woods)
½
It has some clichés here and there that could have been avoided and the characters sometimes don't seem to be the brightest people in this sort of situation, but still this atmospheric horror movie works quite well, especially in a second half that can be really unnerving.
Carlos Magalhães
Super Reviewer
Some originality and top notch creature design, that's about all The Hallow has going for it, but evidently, that's enough. Oh, there's also a flaming-scythe. That's a thing.
½
This is a movie that never quite clicked for me despite, in theory, of having all the pieces necessary to make a fairly solid horror movie, to me at least. Part of it is the fact that the movie's story really rang hollow for me. There is a certain universality about parents sacrificing everything hey have, including their lives, for their kids and this movie follows that mentality, but I just never really bought into it. This is a film, of course, but part of the enjoyment of this medium is suspending your disbelief and, if even for a brief moment, pretending that what you're watching has some actual weight or importance. That's not the case in this movie. It just feels like they're telling me that this is what I should feel, since it's what the characters themselves are feeling, but it just did not work for me. There's just something about the film and the way the characters are written that negated any hard work put in by the cast. And I'm not saying that the leads were terribly written, but there's just something off-putting about both of them and I honestly can't put my finger on what it was. I did like, however, how it explored Irish folklore. That stuff is always interesting to me, like seeing the difference in myths and monsters, how that differs from culture to culture. The film's atmosphere is really appropriate for the tone, so no complaints on that front. But, and this might be nitpicking, I think it sort of rushes you into the fire, as it were. It's like they spend some time exploring the myth behind who the hallow are, what they do and what they want, but then they just reveal them out of nowhere. It's like there's no build-up, no teasing (well with the exception of one moment) to the actual reveal. And that's just poor writing to me. The creatures themselves are well-designed, but they're not particularly great looking either. Don't come in expecting Pan's Labyrinth-level monster design. And I don't wanna come across as suggesting that this film was bad, it actually wasn't, it's just that, for everything that it gets right, there's almost as much that they don't. I have no problem admitting that, at the very least, this is an average horror movie. But it's one that, to me, should've been better than it ended up being. I just failed to get into the story. Still, if you have Netflix, then this is worth a watch if you're a horror geek.
Jesse Ortega
Super Reviewer
The Hallow (The Woods) Quotes
There are no approved quotes yet for this movie.