The Hamburg Cell
(2005)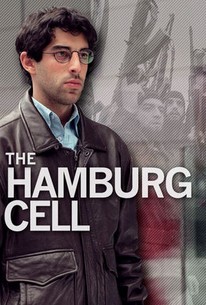 AUDIENCE SCORE
Critic Consensus: No consensus yet.
Movie Info
This fictional account looks into the lives of the young Arab men who would eventually lead the attack on the World Trade Center on Sept. 11, 2001.
Critic Reviews for The Hamburg Cell
There are no critic reviews yet for The Hamburg Cell. Keep checking Rotten Tomatoes for updates!
Audience Reviews for The Hamburg Cell
I am a little unclear as to why we Americans so often focus on Mohammed Atta (here played by Maral Kamel) when we talk about the September 11 hijackings. I'm pretty sure he's the one who wrote that handbook on hijacking, and that's a big deal. I know we found his luggage after, because it didn't make it onto the plane (ah, baggage handling), and I'm pretty sure the manual was in there. The thing is, though, there were eighteen other guys, and we hardly ever bring them up. I'm never entirely clear on any of their names, and I've spent a lot of time arguing with Crazy Conspiracy Theorists on the subject. Even there, the only name that comes up is Mohammed Atta. And even there, they hardly ever mention that his dad claims he's alive and well and in hiding. (His dad also blames Mossad, not al Qaeda, for the attacks.) These men have mostly ceased to exist, which may well be the right punishment, as I've said before in other contexts. Here, however, we are looking at Ziad Jarrah (Karim Saleh). He's pretty secular at the beginning of the story. He drinks, and he has a girlfriend who smokes and drinks, and he sleeps with his girlfriend. And then he gets involved with a certain mosque and certain guys, and he decides that being a good Muslim is a part of his identity that he's lost. He never really drank a lot, so far as I can tell, but he stops drinking entirely, refusing even to drink a toast to a friend who's just bought a restaurant. He argues with his girlfriend, Aysel (Agni Scott, here billed as Agni Tsangaridou), about how secular [i]she[/i] is. Still, he ends up marrying her anyway. However, they are being pulled apart by his involvement with that mosque and those men. She fears being widowed by his drive for jihad. He goes off to America to go to flight school. She visits once, then returns to Germany. When she is watching television one day, she is shocked, but I'm not sure she's really surprised. So far as I can tell, it is Jarrah who is the subject of the most debate of all the hijackers. His family claims that he was an innocent passenger, though they do not deny that he was on the plane--or have any convincing explanation (so far as I can tell, any explanation at all) for what he was doing there. There is apparently considerable doubt as to how closely he was affiliated with the others in the Hamburg Cell. He is known to have trained in Afghanistan with them. On the other hand, he had always expressed interest, even from childhood, in learning to fly--his father wouldn't let him, out of fear he would crash--and he told his family he would return to Lebanon for a cousin's wedding on the twenty-second. He even showed off the new suit he'd bought for the occasion to his landlady. However, he has been shown to have some connection to the other hijackers, and it seems implausible at best that he would have just coincidentally shared travel plans from Fort Lauderdale to Newark with them and then gotten on the same plane at Newark. The Jarrah we have here is a flawed but not evil man. Indeed, I would not say that any of them are really shown as evil. Fanatical, yes. Aysel knows that he is obsessed with jihad, and he's one of the least obsessed of the lot of them. Fundamentalists of many religious stripes despise the increasingly secular nature of the world; it isn't just Muslims who have taken violent action over it. However, these men really do believe that they're doing what's right. They believe they are striking a blow for the good of their people. Jarrah is at best confused. He was raised in a secular lifestyle--he even attended Catholic school as a child--but finds his Islamic roots to be a source of great pride and importance. They do say that converts have the strongest faith. There is some debate about whether the filmmakers should have shown the collapsing towers at the end of the film. It is certainly true that Jarrah would not have known about the success of the other flights when he boarded his own, and the first tower collapse was a scant four minutes before his own death. (It is also, of course, true that he was on the plane that crashed in Pennsylvania and had not been anywhere near the World Trade Center after just a few minutes into his flight.) However, the pattern of events that we see in the last few minutes of the film are not just a literal sequence of events. We are seeing what is going through Jarray's mind. We are seeing what Aysel is seeing. And we are seeing the changes that were about to happen to all of us.
Edith Nelson
Generally interesting story, a fictionalized account of the 9/11 incident. Well developed, moving and believably presented. Quite good, I would recommend seeing it. Very real.
James Higgins
The Hamburg Cell Quotes
There are no approved quotes yet for this movie.
Discussion Forum
Discuss The Hamburg Cell on our Movie forum!