The Haunting of Helena
(2013)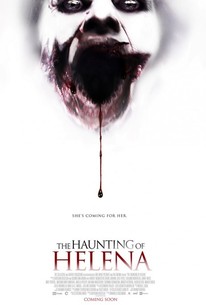 AUDIENCE SCORE
Critic Consensus: No consensus yet.
The Haunting of Helena Videos
The Haunting of Helena Photos
Movie Info
After a divorce, Sophia moves to the south of Italy with her daughter, Helena. Their new home, an apartment within an austere building of the fascist age, is a chance for them to start a new life. But inside an old storage room hides a mysterious closet and a buried secret. After the loss of Helena's first baby tooth, a chilling obsession begins and an apparition haunts her sleep. Dreams become nightmares. Nightmares become reality. When Helena collects her classmate's fallen teeth with an urgent hunger, it is clear that there is far more to their new home than can be seen. Sophia finds herself in a terrifying fight to save her child while maintaining her sanity. THE HAUNTING OF HELENA will keep you at the edge of your seat as it slides in agony along the sharp blade of psychological terror. (c) Bloody Disgusting
Rating:
NR
Genre:
Directed By:
Written By:
In Theaters:
On DVD:
Runtime:
Studio:
Critic Reviews for The Haunting of Helena
All Critics (3) | Top Critics (1) | Fresh (1) | Rotten (2)
It doesn't offer anything new to the genre, but chugs along pretty well until the plot holes begin to pile up.

Arizona Republic
Top Critic
This update of the Tooth Fairy legend takes the familiar and tries to make it terrifying but horrendous dialogue and weak performances will aggravate even the most forgiving horror fans.
Yet another ghost story that insists there's nothing more chilling than a professional woman charged with raising a child on her own.
Audience Reviews for The Haunting of Helena
½
After viewing The Haunting of Helena if you start thinking you've seen this movie before, you have...Darkness Falls which is better in almost every way. The Haunting of Helena has a few scary images but not much more and with the lack of toothfairyish originality doesn't have much going for it.
Jonathan Porras
Ok, here is the biggest problem with this movie and it is a tough one to overcome, the acting is fricking horrible, everyone in this movie should probably really stop acting and find some other job that they might be good at. It is horrendous and after a bit it becomes painful, especially the little girl who plays Helena, and I really hate saying anything bad about a child, but damn she is really bad at this acting thing and it almost dooms the entire move. The writers don't do the bad actors any favors by making the characters boring, and either unemotional or overly emotional. But here is the thing the movie does manage to overcome these issues and make a decent movie. The story comes at you from different ways and changes throughout, the mother-daugther moving into the creepy apartment begining is great, then the movie changes and you have an asylum, you have a story about the tooth fairy for a while, and a story about a serial killer for a while, and all the pieces come together and make a cool ending. I really wish the acting and character development had been better but even despite that it is still worth a watch
Brandon Collinsworth
½
The Haunting of Helena (Christian Bisceglia and Ascanio Maglarini, 2012) There are some truly arresting scenes in The Haunting of Helena, the kind of risky stylistic choices that, done correctly, can go a long way towards making or breaking a movie. For example, the scene where Helena (Sabrina Jolie Perez in her only screen role to date) is sitting at one of those brightly-colored little-kid desks. There's nothing much else in the room, which is odd and does not ring true and contributes about a mountain's worth of atmosphere. Then something falls and clatters off the desk, and this begins a rain of bloody teeth as Helena scrambles under the desk. It's a pretty amazing visual, and little scenes like that, were they correctly integrated with the rest of the movie, would have made this an overlooked little gem. As it is, however, they make it an interesting, if ultimately failed, experiment that still manages to be worth watching for little things like that that crop up once in a while. Plot: Helena and her mother, Sofia (Smile's Harriet MacMasters-Green), move into a lovely old home. Dad (The Passion of the Christ's Jarreth J. Merz) is out of the picture, so the two of them are on their own. Everything goes swimmingly until Helena loses her first tooth. (Soon after, Sofia has a rather terrifying vision that you would think would make her put more stock in what her daughter is saying, but no luck.) She starts talking about a tooth fairy who comes to visit her demanding teeth, to the point where she starts buying teeth from kids at school...and paying them in rare coins that seem to have been mysteriously conjured out of nowhere. Sofia, determined to find a rational explanation for all of this, draws in an ever-widening circle of doctors, psychologists, and even her ex, while Helena continues to insist that there is indeed a supernatural explanation. The movie's main drawback, which more than counteracts the main strength above, is that you have seen it before (even the Tooth Fairy angle has been covered by at least two movies I can think of off the top of my head in the past decade). Bisceglia and Maglarini did nothing new with the story; it struck me that they were relying on a series of arresting images to carry the film, rather than attempting to push any envelopes. To their credit, said images can be very arresting, and the film is beautifully-shot. If that's enough for you, it's worth checking out, but it probably shouldn't be at the top of your list. ** 1/2
Robert Beveridge
The Haunting of Helena Quotes
There are no approved quotes yet for this movie.