The Holiday
(2006)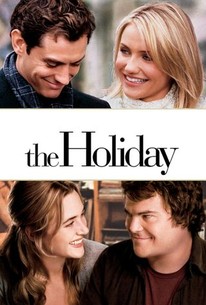 Movie Info
Nancy Meyers' romantic comedy Holiday stars Cameron Diaz and Kate Winslet as two women who exchange houses in order to get a new lease on life. After each suffers her fair share of romantic disappointments, Englishwoman Iris (Winslet) and L.A. woman Amanda (Diaz) meet on-line at a website devoted to helping people exchange houses for vacations. Each agrees to spend the Christmas holiday at the other's home. While each suffers from a minor case of culture shock, both women also end up becoming involved with a man. Iris makes the acquaintance of an upbeat everyman played by Jack Black, while Amanda spends time with a handsome Brit played by Jude Law. Both women must decide what to do with these new relationships as their pre-arranged house switch is scheduled to last less than two weeks. ~ Perry Seibert, Rovi
People Who Like this movie also like
News & Interviews for The Holiday
Critic Reviews for The Holiday
Audience Reviews for The Holiday
As chick flicks go, it's not bad. The leading men are all pretty ugh. I mean seriously, Jack Black looks and behaves like a demented cabbage patch kid all through this. The scene at the video store was cringe able. I have trouble picturing any woman being attracted to those looks and his honestly weird behavior. Ditto sleazy Jude Law whose character turns out to have two kids. Wow what a deal for beautiful, rich Amanda. I did like Kate Winslet's Iris, and the nice story with her and the old man next door. The English town looks beautiful too, and her little cottage. The story gets a bit convenient right at the end and the logistics I can't even imagine, but it's all happy music and fade out by then, so I don't expect we are expected to think how the hell these relationships would ever work out. Nice little story and a few laughs. Cameron Diaz is good also, I miss seeing her in comedies.
Nicki Marie
Super Reviewer
A slight different take on how 2 (heart) broke girls try to cope with the situation. Nevertheless, it's a below average romantic drama (not comedy).
familiar stranger
Super Reviewer
Despite initial reservations about any romantic comedy, especially one comprising Kate Winslet and Cameron Diaz, I was pleasantly and gladly surprised by this light humoured, touching film, directed and written by Nancy Meyer. Telling the story of two women who swap houses, one in Britain, one in the US, to escape love and men, they eventually find themselves falling in love with those closet to the woman's house they are living in. The plot itself is simple. So simple, that any average filmgoer will work out the ending before they have finished reading the blurb on the back of the DVD case. But despite this, "The Holiday" combines a touching, and although the phrase is perhaps the most over-used and cheesy, "heart-warming" event. The script is nothing clever, and the camera work is average. The acting is as expected and the humour silly and a times embarrassing for the viewer. Despite all this, throughout the film, you feel yourself slowing growing more attached to the characters, even though, in my personal case, I didn't want to. Jack Black is perhaps the funniest of the four. His good acting skills are often forgotten amongst his other starring roles as pandas, but his chemistry with Kate Winslet is excellent, and although he plays himself, as always he plays it very well. It would be silly to say that there is anything special about "The Holiday" but, unlike the majority of rom-coms, it does have a special quality. A quality which sets it above the rest, as the audience connect with all of the characters in a unique and individual way, whilst enjoying the kind, gentle, but nice and touching story which "The Holiday" delivers.
Adam Kelly
Super Reviewer
The Holiday Quotes
| | |
| --- | --- |
| Arthur Abbott: | Iris, in the movies we have leading ladies and we have the best friend. You, I can tell, are a leading lady, but for some reason, you're behaving like the best friend. |
| Iris: | You're so right. You're supposed to be the leading lady of your own life for God's sake! |
| | |
| --- | --- |
| Iris: | I understand feeling as small and as insignificant as humanly possible. And how it can actually ache in places you didn't know you had inside you. And it doesn't matter how many new haircuts you get, or gyms you join, or how many glasses of chardonnay you drink with your girlfriends... you still go to bed every night going over every detail and wonder what you did wrong or how you could have misunderstood. And how in the hell for that brief moment you could think that you were that happy. |
| | |
| --- | --- |
| Iris: | I suppose I think about love more than anyone really should. I am constantly amazed by its sheer power to alter and define our lives |
| | |
| --- | --- |
| Iris: | Jasper--- Oh, wait, I need the lights on. [turns on a lamp] Jasper, you have never treated me right, ever! |
| Jasper: | Oh, bab--- |
| Iris: | Shush! You broke my heart and you acted like it was somehow my fault, my misunderstanding, and I was too in love with you to ever be mad at you, so I just punished myself! For years! But you waltzing in here on my lovely Christmas holiday and telling me that you don't want to lose me whilst you're about to get MARRIED! Somehow newly entitles me to say, "It's over!" This-this-this twisted toxic thing between us! It's finally finished! I'm miraculously done being in love with you! Ha! I've got a life to start living, and you're not going to be in it! |
| Jasper: | Darling--- |
| Iris: | Now I've got somewhere really important to be and you have got to get the hell out! [opens door] Now! |
| Jasper: | What exactly has gotten in to you? |