The House
(2017)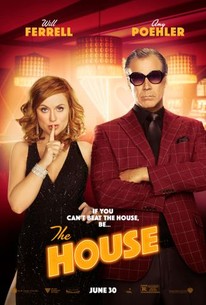 Movie Info
Andrew J. Cohen directs this romp about a mother and father (Will Ferrell and Amy Poehler) who blow their daughter's college fund and start an illegal casino in their basement to recoup the losses.
News & Interviews for The House
Critic Reviews for The House
Audience Reviews for The House
½
A typical suburban couple, short on cash, decide to open a casino to fill in the stopgap. Okay, so its Will Ferrell and Amy Poehler, so toss that "typical" description right out the window. Its on their backs this baby runs, and incredibly they're short of gas (jokes) to go anywhere. After a moment I knew when either star was going to "turn it on" in order to sell a joke that, ummm, was simply not working, and therein is the rub. This is a nice visit to see old friends again, but by no means memorable.
Kevin M. Williams
Super Reviewer
½
A typical Will Ferrell comedy, A few cheap laughs and abit of gross humour thrown in for the hell of it and it ends up being an ok film but never pushes itself enough to be great, The story is predictable and can be pretty dull in it's down times but as soon as the main story kicks in it becomes pretty entertaining, It doesn't try anything new and it never felt like it wanted to but it was funny in parts just not enough to be called a good comedy film.
Jamie Clarke
Super Reviewer
½
It's got an appealing premise and many funny people attached, so why is The House such a shoulder-shrug of a comedy? Will Ferrell and Amy Poehler open a casino in a sleepy suburb to try and make enough dough to send their daughter to the college of her dreams. Ultimately, it's just too safe and expected. There are plenty of jokes about the couple trying to adopt the mafia thuggery they've seen in popular movies. The set pieces feel underdeveloped and quick to end on strangely violent notes, including a running gag of physical harm coming to one of the daughter's friends. Ferrell and Poehler don't have strong characters to play, so when the scenes go long, as they often do, you feel like they're just throwing whatever improv riffs they can to see what sticks. It gets tedious. The depiction of this reality also leads to difficult questions. They didn't lose their child's college fund through some swindle; they just never saved, always assuming their daughter would earn a scholarship. They also have never heard about student loans, which every person is guaranteed access to. We also don't see the ramifications of Ferrell and Poehler fleecing their neighbors of hundreds of thousands of dollars. Wouldn't that have a deleterious effect on a small suburb? It should at least create more conflict. The movie jumps directly from the parents deciding they will open a casino to having an open casino. It feels like we skipped a whole act of valuable material. How did they hire these people? Where did they get the capital? I think a major mistake was having such a select number of characters. This premise deserved to be an ensemble comedy with each character contributing in some fashion. Jason Mantzoukas (TV's The League) is the funniest resource the film has and I knew at least when he was on screen that I had the best chance for laughter. I may be heartless but I found the daughter to be a simpering, annoying character. What teenager doesn't have or desire an independent life outside his or her parents? She doesn't seem worth all the trouble. The House finished filming around January 2016, which means it's been a long edit to find as much funny as they could with the available footage. I think they either ran out of time or just gave up. Nate's Grade: C-
Nate Zoebl
Super Reviewer
The House Quotes
There are no approved quotes yet for this movie.
Discussion Forum
Discuss The House on our Movie forum!