The House
(2017)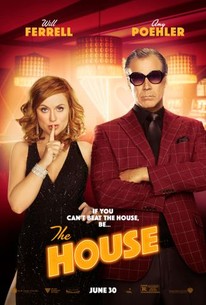 Movie Info
Andrew J. Cohen directs this romp about a mother and father (Will Ferrell and Amy Poehler) who blow their daughter's college fund and start an illegal casino in their basement to recoup the losses.
News & Interviews for The House
Critic Reviews for The House
Audience Reviews for The House
½
Will Ferrell and Amy Poehler star in The House, a mediocre R rated screwball comedy. When the town council revokes their daughter's college scholarship, the Johansens decide to partner up with a friend to open up an underground casino in order to get the money. Ferrell and Poehler (both former SNL cast members) play their characters way over-the-top, as if they're straight out of an SNL sketch. And the jokes are kind of hit and miss; with a lot clichéd and stereotypical gags. Though it delivers a few laughs, The House is a pretty forgettable and formulaic film.
Dann Michalski
Super Reviewer
½
A typical Will Ferrell comedy, A few cheap laughs and abit of gross humour thrown in for the hell of it and it ends up being an ok film but never pushes itself enough to be great, The story is predictable and can be pretty dull in its down times but as soon as the main story kicks in it becomes pretty entertaining, It doesn't try anything new and it never felt like it wanted to but it was funny in parts just not enough to be called a good comedy film.
Jamie Clarke
Super Reviewer
½
A typical suburban couple, short on cash, decide to open a casino to fill in the stopgap. Okay, so its Will Ferrell and Amy Poehler, so toss that "typical" description right out the window. Its on their backs this baby runs, and incredibly they're short of gas (jokes) to go anywhere. After a moment I knew when either star was going to "turn it on" in order to sell a joke that, ummm, was simply not working, and therein is the rub. This is a nice visit to see old friends again, but by no means memorable.
Kevin M. Williams
Super Reviewer
The House Quotes
There are no approved quotes yet for this movie.