The House of the Seven Gables
(1940)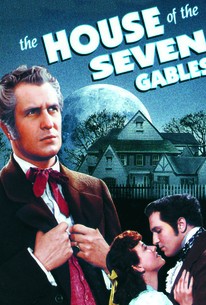 AUDIENCE SCORE
Critic Consensus: No consensus yet.
The House of the Seven Gables Photos
Movie Info
This fine adaptation of Nathaniel Hawthorne's classic tale about a cursed family opens with a title card that reveals how the Pyncheon family stole, cheated, lied, and murdered their way to wealth. But within the hearts of the family's bloodline lay fear of the curse of Matthew Maule, a man they crossed many years earlier. Jumping to the year 1828, upstart judge Jaffrey Pyncheon (George Sanders) is called to his family's beloved seven-gabled house where he is told by his father (Gilbert Emery) and brother Clifford (Vincent Price) that the home is to be sold in order to pay their debts. A bitter, loathsome man who deeply believes in Maule's curse -- and the legend that gold is hidden in the house -- Jaffrey takes the opportunity of his father's death to accuse the innocent Clifford of murdering their patriarch. Clifford is sentenced to life in prison, but in a bizarre quirk of legal fate, the house is left in the care of Clifford's lively fiancée Hepzibah (Margaret Lindsay), who immediately boots out the hateful Jaffrey. The passage of 20 years leaves the house in shambles and Hepzibah a bitter spinster. The arrival of two people -- Hepzibah's pretty young cousin Phoebe (Nan Grey) and a mysterious boarder named Matthew Holgrave (Dick Foran) -- spark Hepzibah into opening the old house as a business. Clifford is finally released from prison and returns home for a touching reunion, but after a serious a strange reports about him leak out, Jaffrey plots to have his brother committed. However, Clifford has some plans for his evil brother and a plan to end the family's curse.
Audience Reviews for The House of the Seven Gables
½
If you've seen a lot of Price's movies you will notice that a scene from this movie is played out in his later movie Tales of Terror. With this film you get the whole story. I loved it, it's a great story.
½
The exceptional cast makes this adaptation of the classic story a winner. George Sanders is in top form. The atmosphere is excellent, the art direction and costumes are impressive.
James Higgins
½
Fall Break started last Friday, but once again, I have nothing special planned due to lack of finances. Meanwhile, all my friends save Kristen have gone home or on trips, so I've been spending a lot of time in my room or in front of the TV. On Friday, I got around to rewatching [b]Horror of Dracula[/b], which always makes me happy. (What can I say? Christopher Lee = Best. Dracula. Ever. Plus, it's one of the few times I enjoy the hero as much as the villain.) Also, the French House girls (as well as others who wandered in) and I watched the first two [b]Star Wars[/b] movies and had a jolly good time in the process. Unfortunately, we didn't get finished with them until 2AM, and I had a geology lab I needed to get in before Saturday morning. So, I stayed up until 6AM, finished it up quick, and finally found an unlocked door into Chamberlain Hall to drop it through my professor's door and finally got to sleep. On Saturday night, Katie, Kristen, and I tried to get together to visit the other Katie, but at the last minute she chose to go with her boyfriend to watch Michael Moore speak in Madison. So, we ended up watching [b]Wayne's World[/b] and [b]Spaceballs[/b] and all of us practically recited the whole of both films along with them. On Sunday, I stayed in and got around to watching [b]Return of the Jedi[/b]. While [b]The Empire Strikes Back[/b] is my favorite, I don't mind this film as much as others, mainly because the Ewoks amuse me somewhat, Luke finally becomes cool, and the big lightsaber battle at the end. I also watched [b]The House of Seven Gables[/b], which I picked up out of curiosity and was pleasantly surprised. It stars George Sanders and Vincent Price as Jaffery and Clifford Pyncheon, the latest in a long lineage descended from a wicked witchhunter. Jaffery is a perfectly corrupt bastard, while Clifford is more passionate and cares naught for his family (it doesn't hurt he has the love of his pretty cousin). Their father dies during an argument, Jaffery frames Clifford for his "murder", and eventually comes up with a scheme to revenge himself... I was really impressed with the film. The story is very good (based on a Nathaniel Hawthorne story, but most likely this is more engaging than the story itself), Price was surprisingly subtle, and Sanders makes for an incredible bastard (I think I get why Katie -- the_kid_with_the_helmet, that is -- likes him so much). I should also mention my trip to the Field Museum to the Machu Picchu exhibit. The lecture was very interesting, although I admit I fell asleep for an early part of it. The exhibit was great -- I wish I could have taken pictures to show the beautiful ceramics, fine metallurgy, and exquisite stone goods, formed out of granite through sand and water. So, I have a thrilling week ahead of me, full of movies and TNG reruns on Spike TV.:rolleyes: Hopefully, I can get up to Madison soon to look for a trampy skirt and fishnets for Rocky Horror and perhaps a new coat. As I write this, I'm rewatching the [b]I, Claudius[/b] miniseries -- a famous BBC miniseries full of sex, death, and more Shakespearean actors than you can shake a stick at.
Megan Rooth
The House of the Seven Gables Quotes
There are no approved quotes yet for this movie.
Discussion Forum
Discuss The House of the Seven Gables on our Movie forum!