The Independent
(2001)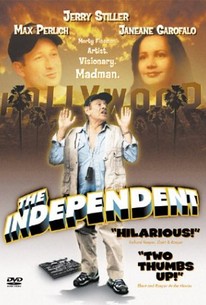 Movie Info
Imaginary Z-grade 1960s exploitation film producer Morty Fineman (Jerry Stiller), who was responsible for such faux-works as Buddy Cops V: Hayseed and Toughnut , sci-fi blaxploitation flick The Foxy Chocolate Robot , and, of course, Heil Titler , is the focus for this mockumentary co-written and directed by Stephen Kessler). While Fineman struggles to make his latest effort, Ms. Kevorkian , about a gun-toting babe who's passionate about assisted-suicide, the bank wants to foreclose on his hallowed studio and sell his film archive for $8 a pound. In absolute desperation, he reaches out to his estranged daughter Paloma (Janeane Garofalo), who grudgingly agrees to be the president of his production company in spite of numerous moral qualms. Along the way, the film features interviews with such real-life luminaries as Peter Bogdanovich, Roger Corman, and blaxploitation stalwart Fred Williamson, that paints a picture of a relentlessly gung-ho producer whose work somehow manages to rise above nothing budgets and lackluster talent. They also highlight Fineman's penchant for hitting on his leading ladies; Karen Black recalled one incident by noting, "It helped to be drunk." This film was screened at the 2000 South By Southwest Film Festival.
Critic Reviews for The Independent
Audience Reviews for The Independent
The Independent takes the comedic shenanigans of the lovable Jerry Stiller and makes an incredibly dull film about an independent director trying to get a budget together for one last film. Typically Jerry Stillers yelling and carrying on make for a good number of laughs but director Stephen Kessler is unable to use Stillers energy effectively and causes The Independent to be a boring look at the director not unlike himself.
Jonathan Porras
I think that Jerry Stiller has one of the best comedic performances ever here.
Stephen Earnest
Super Reviewer
It's just plain stupid in every sense of the word, but Stiller is hilarious and the film exceeds any expectations. The scene where the reporter is interviewing Stiller and asking him about his career is one of the funniest scenes I've ever seen.
Stephen Earnest
Super Reviewer
The Independent Quotes
There are no approved quotes yet for this movie.
Discussion Forum
Discuss The Independent on our Movie forum!