The Inevitable Defeat of Mister & Pete
(2013)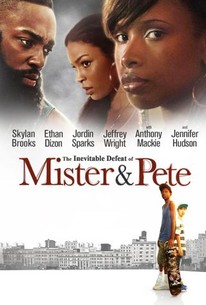 The Inevitable Defeat of Mister & Pete Videos
The Inevitable Defeat of Mister & Pete Photos
Movie Info
Two youths from the Brooklyn projects attempt to fend for themselves on the streets after their parents are arrested in this urban drama from director George Tillman, Jr. (Notorious, Faster). It's summer in New York City, and 14-year-old Mister (Skylan Brooks) is hungry. His irresponsible mother unable to hold down a job, Mister's situation goes from bad to worse when she is taken into custody, and child protective services attempts to track him down. Meanwhile, nine-year-old friend Pete finds himself in the same sinking boat. Together, Mister and Pete search for sustenance while attempting to avoid the violence that plagues their neighborhood. All the while Mister grows to feel invincible, never realizing that it's his vulnerability - not his youthful bravado - that's truly his saving grace. Jennifer Hudson, Jeffrey Wright, Anthony Mackie, and Adewale Akinnuoye-Agbaje co-star. ~ Jason Buchanan, Rovi
Rating:
R (for language, some drug use and sexual content)
Genre:
Directed By:
Written By:
In Theaters:
On DVD:
Box Office:
$487,348.00
Runtime:
Studio:
News & Interviews for The Inevitable Defeat of Mister & Pete
Critic Reviews for The Inevitable Defeat of Mister & Pete
Audience Reviews for The Inevitable Defeat of Mister & Pete
½
With an almost sing-song title, The Inevitable Defeat of Mister & Pete is anything but a cheery film and is actually a harrowing and all-too-real story about two inner city kids living in the Brooklyn projects who are left to fend for themselves for an entire summer after both of their mothers are taken away by the authorities. This film doesn't hold back in showing the ugliness of desperation and poverty as our main character, Mister witnesses daily robberies, strung-out homeless people, and his very own mother prostituting herself to make ends meat; which is uncomfortable and deeply sad to watch. Once his mother is taken away, Mister has to continually hide from the authorities with his fellow companion, Pete, who he protects like his own kin, despite the fact that they are different races. It's a fairly bleak and unapologetic coming-of-age story that hammers our lead characters into the ground at every turn, but their determination to rise above their situation helps the audience root for their plight. There were a couple of things that bothered me: some characters seemed a bit pointless in the grand scheme of things, some of the conflicts felt really forced, and most annoying of all: they never explain why Mister is named that! It's a pretty random name for a young boy, but we're just left to accept that that is what he's called. The film contains wonderful acting from the two young stars, Skylan Brooks and Ethan Dizon, and also includes two American Idol alums, Jordin Sparks and Jennifer Hudson, the latter portraying Mister's mom and her glammed-down performance really impressed me. This is a solid drama about poverty, maturity, and the human spirit, that I don't feel the need to ever watch again, but I'm glad that I did see it once!
Brett Horton
½
Realistically portrayed drama of the life in the disadvantaged suburbs of America directed by George Tillman, Jr. and written by Michael Starrbury , can bring tears even without melodramatic elements in it. Presenting Skylan Brooks (Mister) and Ethan Dizon (Pete) in the title roles nd casting Anthony Mackie, Adewale Akinnuoye-Agbaje, Jennifer Hudson, Jordin Sparks and Jeffrey Wright, the director made simply perfect team. As a genre, I will classify this movie as a coming of age story of two inner city boys. They were left to fend for themselves over the summer after their mothers are taken away by the police for drug possession and prostitution. The movie concentrates on the two boys who are forced to forage for food while dodging child protective services and the destructive scenarios of the Brooklyn projects. They are faced with more trouble than any child can be expected to bear, and the fragile but resourceful Mister nevertheless finds strength in an idea from a movie, that he can be an unstoppable force against seemingly unmovable obstacles if he believes in the success... There are plenty of sad and disturbing moments in this movie, but all of them managed to become inspirational and uplifting, because the director offered a glimpse of hope in the continuously degrading American society, especially for the poor. The brotherhood of Mister and Pete was something to make note, as well as the answers on the entire question of morality when people are forced to making ends meet. The film exposes the lack of real role models for the children in the society where the only value is the almighty dollar, and the authority figures were presented as menacing instead of helpful at times. If you are ready for a dark movie with its moments of humour and lots of charm, while enjoying the innocence and cuteness adjusting to difficult moments of life, please, check this one!
This movie was not what I expected but went so much further than I thought! Great performances by these two brillant young actors. 2 Thumbs up with this film that touched reality in so many ways!
Keith Kershaw
The Inevitable Defeat of Mister & Pete Quotes
| | |
| --- | --- |
| Pete: | Mister, is it okay not to love your mom? |
| Mister: | I mean, you can't help but love her Pete. But you don't have to like her. |
| | |
| --- | --- |
| Pete: | Mister, is it okay not to love your mom? |