The Institute Benjamenta
(1996)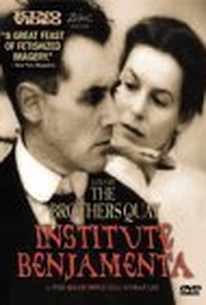 Movie Info
From the directing team of identical twin brothers Timothy Quay and Stephen Quay, Institute Benjamenta, or This Dream People Call Human Life focuses on the experiences of Jakob Von Gunten (Mark Rylance), who has come to the titular institute to train to become a manservant. Amidst a series of unorthodox lessons under the instruction of brother and sister Johannes Benjamenta (Gottfried John) and Lisa Benjamenta (Alice Krige), Jakob becomes attracted to Lisa and she to him. As the magnetism between the two of them intensifies, Lisa's health declines more and more, leading Johannes to question Jakob's influence on her. The screenplay was adapted from the novel Jakob von Gunten by Robert Walser. ~ Matthew Tobey, Rovi
Critic Reviews for The Institute Benjamenta
Audience Reviews for The Institute Benjamenta
Thinking he has no important calling in life, an ambitionless man enrolls in a school that trains servants; once there, he enters into an ambiguous, sexually repressed relationship with the headmistress and her brother. A beautiful looking black and white film that deliberately uses shallow focus and overexposure to tremendous artistic effect, though the sludgy, slow and surreal plot will turn the average moviegoer off.
½
Is our identity at stake in the civilized world? This film's story follows Jakob, a new student at the servant school, Institute Benjamenta, and the principal and principaless of that school who love him, Herr and Lisa Benjamenta. Lots of fascinating allusions and images: light---Jakob says, "Why can't there be light in light, but only in dark?" and the scenes outside of his room are filled with beams of spotlights in otherwise dark rooms, whereas Lisa says (in reference to herself) "it burns in the sun, that which does not know the hot gusts of life"; nature---Lisa carries a deer hoof pointing stick with her that she uses to indicate sexual preference and without which she suddenly dies, and the room of Jakob and Lisa's affair is littered with pine cones; desire---when she decides to die, Lisa tells Jakob, "Isn't it beautiful not to want anything anymore?" and Jakob responds, "From then on, it was always evening." The movie opened with Jakob saying he would do whatever was asked of him without preference. He did give in, in the end, to the will of Lisa's brother (Herr Benjamenta) after her death, but doing this caused "eternal snow," indicating the completion of Jakob's training. Jakob became a true servant of civilization by giving up on the light, giving into the darkness of repetition and the absence of desire. (posted to http://www.philmosophy.com April 27, 2009)
carolyn S-D
A beautiful, complex work that's more easily enjoyed in hindsight. This is a A one-of-a-kind education in creative filmmaking.
Lee Mayo
The Institute Benjamenta Quotes
There are no approved quotes yet for this movie.
Discussion Forum
Discuss The Institute Benjamenta on our Movie forum!