The Invisible Woman
(1940)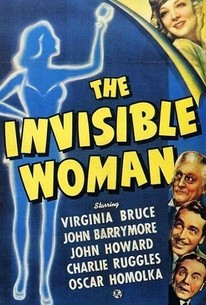 AUDIENCE SCORE
Critic Consensus: No consensus yet.
The Invisible Woman Photos
Movie Info
Virginia Bruce stars as a model exposed to the invisibility serum by a crazed professor (John Barrymore) in this distaff entry in the popular series.
Critic Reviews for The Invisible Woman
All Critics (3) | Fresh (2) | Rotten (1)
Nobody involved needed to feel the least bit ashamed of the results, and for a romcom spun-off from a horror franchise, that's as good as we can fairly expect.
A labored, trite and tiresome lighthearted comedy that references The Invisible Man.
A better-than-average comedy about a woman who turned invisible by a harmless, eccentric old scientist. She has plenty of fun getting even with her boss and dodging incompetent mobsters.
Audience Reviews for The Invisible Woman
½
Unsuccessfully working off of just the comedy end of Whales successful horror-comedy quotient, The Invisible Woman makes a mockery of H.G. Wells source material and the superior films that came before it. Played for laughs that never come, the story of a model volunteering for a test-run of an invisibility machine creates science friction for all involved, which sadly includes some screen legends in thankless roles. In this unrated continuation of the Universal series, an attractive model with an ulterior motive (Bruce) volunteers as guinea pig for an invisibility machine. Eddie Sutherland, a director known for working with some legendary Golden Age HWood comedians as W.C. Fields (Mississippi), Laurel & Hardy (Flying Deuces), and Abbott & Costello (A Night in the Tropics), takes the place behind the camera. Even to the end that you consider this a distraction more than a sequel, however, the bits and humor prove negligible. Worse, John Barrymore and Peter Lorre probably wished that they remained invisible in the finished product. Bottom line: Hollow Mange
½
Less than a year after The Invisible Man Returns was released, this entry in the series was released. It is the one that seems to fit the least in the Invisible Man movie sequels. It couldn't be more different, and yet, Curt Siodmak contributed to the story of this one as well. There is hardly anything resembling a horror movie here. It is a sci-fi concept and there is a romance mixed in, but it is more of a screwball comedy than anything. John Barrymore plays a funny old inventor who uses a chemical combined this time with an electrical contraption to turn people invisible. He won't use it on himself and so he puts out a classified ad for a volunteer. He gets Virginia Bruce as Kitty, who really only wants to teach her boss at the fashion house, where she models, a lesson. Howard is a rich guy funding the professor's experiments. He provides the obvious romantic interest for the invisible woman. Ruggles plays a butler who is overly excitable and does dozens of double takes and prat falls through the movie. Homolka plays a gangster (supposedly) from Mexico who wants to steal the professor's invention. His henchmen are Brophy, MacBride, and Shemp Howard. Yes, of course, that means even more slapstick routines. Margaret Hamilton, a year after The Wizard of Oz, plays the professor's frazzled assistant. She doesn't have much screen time and is only mediocre in a supporting role that is barely developed. So, there's no connection to the Griffin family in this one, and it turns out alcohol brings on the invisibility at the most opportune or inopportune moments. It is funny at times, but the ending jumps ahead with a punchline out of left field.
Byron Brubaker
Super Reviewer
This is the worst in the series so far. The Invisible Woman suffers from a mediocre script, a new interesting idea, of which the screenwriters knew nothing of how to turn it into a good film and frankly this film was not as good as The Invisible Man Returns, which is the best sequel to the classic horror film. The Invisible Woman is very light on content with nothing really interesting to grab the viewers interest. The cast are frankly silly here and I think that they could've done a much better job at delivering a third entry to this franchise. Though the film is the worst in the series, the special effects are great. The story has been stripped of any horror elements, with only a small hint that this is sequel to a horror film. The film has romantic elements thrown in, but this isn't Casablanca, and I felt that it really didn't work. The film could have been good, but the screenwriters really don't know where to go with the story. I think it's a shame, because the first two films were terrific, well acted with engaging storylines. The only thing that this film has going for it, is special effects, which are wonderful. Unfortunately that's not enough to redeem such a tired film. The Invisible Woman plays out like a romance film in the end, and the film just doesn't cut it as a horror film. I think it's a shame because the screenwriters thought of a new concept for the series, but they just didn't know how to properly build on the idea.
The Invisible Woman Quotes
There are no approved quotes yet for this movie.