The Island President
(2012)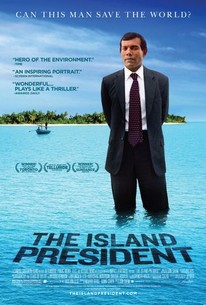 TOMATOMETER
AUDIENCE SCORE
Critic Consensus: An eye-opening and appealing documentary about an earnest politician up against the closed door drama of climate change.
The Island President Videos
The Island President Photos
Movie Info
The Island President is the story of President Mohamed Nasheed of the Maldives, a man confronting a problem greater than any other world leader has ever faced - the literal survival of his country and everyone in it. After bringing democracy to the Maldives after thirty years of despotic rule, Nasheed is now faced with an even greater challenge: as one of the most low-lying countries in the world, a rise of three feet in sea level would submerge the 1200 islands of the Maldives enough to make them uninhabitable. A classic David and Goliath tale, The Island President captures Nasheed's first year in office, culminating in his trip to the Copenhagen Climate Summit in 2009 where the film provides a rare and unprecedented glimpse of the political horse-trading that goes on between world leaders at such a top-level global assembly. -- (C) Samuel Goldwyn
News & Interviews for The Island President
Critic Reviews for The Island President
Audience Reviews for The Island President
½
The tiny island nation of Maldives is rapidly vanishing thanks to rising sea levels, and its leader-now ex-leader-Mohamed Nasheed is doing everything he can to coerce the world's superpowers to do something about it. That's the story behind Jon Shenk's documentary, The Island President. It's a David vs. Goliath tale of epic proportions and of colossal importance. But something gets lost in translation from the real world to the screen. There isn't a story out there more worthy of documentary treatment than The Island President; The mainstream press is much more interested in shit American politicians say than actual global crises. But Shenk manages to strip Nasheed's struggle to save his nation and its people of any and all cinematic qualities. There's no suspense, no real narrative arc, no character identification-nothing. One of the main problems is that the film is essentially a two-hour interview with one man, and no matter how noble he and his cause are, he remains a politician at heart. He's just a little too polished to come across as genuine, and maybe that's my predisposition to distrusting politicians creeping in, but if you compare this film to a documentary like Exit Through the Gift Shop (or even something minor like Morgan Spurlock's Comic-Con doc), there's very little that feels off-the-cuff. Though Nasheed is clearly speaking from the heart, his sense of urgency doesn't come through. You can't blame an interview subject for a bad interview, however. Shenk should have poked and prodded. In lieu of that, it's his job to punch the film up with some directorial flare, but everything in The Island President feels flat. It's a film that I suspected would be right up my alley. I'm a big politics buff, and the environment is probably the issue I feel most passionately about. But The Island President is a sleepy film that can't hide behind its earnestness for long. It wasn't but 30 minutes before I started checking my watch, and nothing that happened after that point stopped my slide toward dissatisfaction. http://www.johnlikesmovies.com/island-president/
John Gilpatrick
This an incredibly fascinating and, quite frankly, inspiring documentary about President Mohamed Nasheed's battle to bring to the Maldive Islands' struggle with rising sea tides thanks to climate change to the largest amount of people as is humanly possible so he can get the help he needs. The Maldive Islands' has an average ground level of 5 feet over sea level, making it the planet's lowest country. So Nasheed's struggle really is for the survival of his people and his country if climate change continues the way it is and his journey to the Copenhagen Climate Summit in 2009 in order to get as many countries as possible to diminish carbon emissions so that Maldives can get the help it needs. What's really interesting about the documentary is everything leading to Nasheed's mission, the Maldive Islands' were ruled over by a dictator for 30 years and it shows you how Nasheed led the charge to introduce democracy. Perhaps it wasn't just Nasheed on his own, but he was certainly an important figure in it finally forcing Gayoom, the dictator, to allow fair and free elections. I literally had no idea about any of this and it really is fascinating seeing how Nasheed goes from a political prisoner to the President of the country. Which brings us to President Nasheed. What this man is trying to accomplish, especially when so much of the world completely denies that climate change is real and think it's a conspiracy by scientists, which is idiocy if you ask me, is really inspiring. President Nasheed is an incredibly likable man and his desperation to do right by his country when he most needs it makes it very easy to relate to him. It really is a David and Goliath story, much like Crude, but Nasheed refuses to give up as he knows it would be the end of his people, perhaps not right at the moment but in the very near future, and that makes him a sympathetic figure and you wish that his words end up reaching everyone and countries end up making a concerted effort to lower carbon emissions, even if you know it is unrealistic to expect that they all will. I do think that the film sort of peaked before the Copenhagen Summit, the negotiations simply don't have the same power as seeing Nasheed hold the first underwater cabinet meeting, and let me tell you that this is a great idea to bring the spotlight on climate change, and everything else leading up to that. But it still is really fascinating seeing the negotiations take place and seeing how things, at first, may not have been going Nasheed's way. At the end of the summit, he didn't get exactly everything he wanted but it was a victory for his people and while it wasn't perfect, his mission was a huge accomplishment. Even if i had some issues with the political stuff at the Summit, this is still a top-notch and completely eye-opening documentary that must be seen.
Jesse Ortega
Super Reviewer
The Island President is an inspirational journey about how the president of Maldives tried to convince the world to reduce carbon emissions in the 2012 Copenhagen Environmental summit. His alternative was to see his island nation be submerged by the effects of global warming. While the Maldives are far away in the Indian Ocean, sea levels rising affects major cities all over the world. It's a story of climate change, international politics, and fighting despite the odds.
William H.
The Island President Quotes
| | |
| --- | --- |
| President Mohamed Nasheed: | There is absolutely no scientific debate remaining. Climate change is happening now. |
| | |
| --- | --- |
| President Mohamed Nasheed: | I live in the Florida Keys...water hasn't risen a 1/4" in 10+ years since all this BS started |
| President Mohamed Nasheed: | I live in the Florida Keys...water hasn't risen a 1/4" in 10+ years since all this BS started. |
| | |
| --- | --- |
| President Mohamed Nasheed: | We continue to shout even though we know that your not really listening. |
| | |
| --- | --- |
| President Mohamed Nasheed: | If we do not act now my island nation will be submerged by the sea. |
Discussion Forum
Discuss The Island President on our Movie forum!