The Junkman
(1983)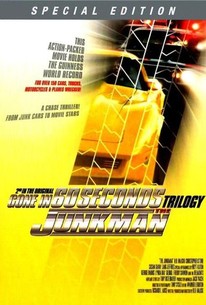 AUDIENCE SCORE
Critic Consensus: No consensus yet.
Movie Info
H.B. Halicki, who wrote and directed the car chase classic Gone in 60 Seconds, returned with this action-comedy, in which Halicki claimed to have wrecked no fewer than 150 cars onscreen (a record confirmed by the Guinness Book of World Records). Harlan Hollis (H.B. Halicki) is a former junkyard owner whose knowledge of cars has helped him to move up in the world, becoming a well-known auto stuntman and film director. However, Hollis has made an enemy of one of his partners in the movie game, and as he hits the road to attend a James Dean memorial festival in Indiana, Hollis discovers a number of people are out to kill him, using guns, automobiles, airplanes, and anything else that's handy. Can Hollis find out who's after him and turn the tables before his luck runs out? Along with those 150 cars, The Junkman stars Christopher Stone, Lynda Day George, and Freddy Cannon.
Critic Reviews for The Junkman
There are no critic reviews yet for The Junkman. Keep checking Rotten Tomatoes for updates!
Audience Reviews for The Junkman
½
160628: This film will never garner the mediocre status of Gone in 60 Seconds (1974). Other than a few neat police vehicles, and a few cool crashes, this film sucks.
John Redshaw
½
When into production and was completed in either 1979 or 1980,the sequel to the runaway boxoffice independent action flick of 1974 wasn't released in the United States until 1982. In 1974,writer-producer-director H.B Halicki set the record for the longest car chase in cinema history,"Gone in 60 Seconds"(34 minutes out of its original 105 minute running time),also made boxoffice history as well where a total of 93 cars were wrecked during the filming of this successful low budget classic. The 1974 independently made film remains right up there with "Bullitt","Vanishing Point",and "The French Connection",as one of the greatest car chase movies ever made. The 1982 sequel "Gone In 60 Seconds II:The Junkman",or "Grand Theft Entertainment",had more incredible car chase scenes packed and more cars were wrecked into its 99 minute running time. Eight years from the original,this gave Halicki a bigger budget to work with here,and also managed to land a major studio deal. Whilst boasting a couple of some of the greatest auto stunts ever filmed,including one spectacular scene of a car flying over a plane,the film doesn't have the intensity or the rawness of the original that made it a unique experience. And to boost the intensity to the sequel,Halicki and company managed to add Christopher Stone,Hoyt Axton,Freddie Cannon, and even Lynda Day George onto the casting. The storyline here finds Halicki being pursued by two hitmen and one slinky megacool hitwoman with designer handguns. Most of the car chases are obviously deliberate,and lack the spontaneity of the 1974 film. However,the most exciting scene in this film where Halicki tosses a live grenade over his head to the guy behind him that blasts the Chevy right over Halicki's Caddy is the one that watch for that is the most astounding action sequence ever filmed. I've never seen a better action movie like this,but its over the top.
Mister Caple
Super Reviewer
½
Not as good as the original Gone in 60 Seconds, but this one has a blimp and badass 70's 'Vette (I want one of those so bad) in it so it still gets credit.
Jaycob P
The Junkman Quotes
There are no approved quotes yet for this movie.
Discussion Forum
Discuss The Junkman on our Movie forum!