The Killing of a Sacred Deer
(2017)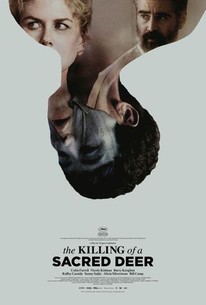 TOMATOMETER
AUDIENCE SCORE
Critic Consensus: The Killing of a Sacred Deer continues director Yorgos Lanthimos' stubbornly idiosyncratic streak -- and demonstrates again that his is a talent not to be ignored.
The Killing of a Sacred Deer Videos
The Killing of a Sacred Deer Photos
Movie Info
Dr. Steven Murphy (Colin Farrell) is a renowned cardiovascular surgeon presiding over a spotless household with his ophthalmologist wife Anna (Nicole Kidman) and their two exemplary children, 12-year-old Bob (Sunny Suljic) and 14-year-old Kim (Raffey Cassidy). Lurking at the margins of his idyllic suburban existence is Martin (Barry Keoghan), a fatherless teen who Steven has covertly taken under his wing. As Martin begins insinuating himself into the family's life in ever-more unsettling displays, the full scope of his intent becomes menacingly clear when he confronts Steven with a long-forgotten transgression that will shatter the Murphy family's domestic bliss.
News & Interviews for The Killing of a Sacred Deer
Critic Reviews for The Killing of a Sacred Deer
Audience Reviews for The Killing of a Sacred Deer
½
Yorgos Lanthimos, in his brief but quality filmography thus far, has managed to craft a definitive style. It is undoubtedly Kubrickian in its formality, and populated by characters who speak and act in an unambiguous but somewhat inscrutable manner by eradicating subtext within the dialogue. They live in a dense atmosphere of unreality created by some unexplained mechanism - left purposely enigmatic in order to accentuate the symbolic aspects of the story. Why and how could someone be turned into a lobster for failing to get married? It doesn't matter, it simply is that way to create the conditions by which one can analyse relationships from interpersonal and societal perspectives. That was the case in The Lobster of course, but The Killing of a Sacred Deer is an altogether different allegorical exploration. Focusing once again on the familial and political themes of Dogtooth, this time Lanthimos looks toward the impetus behind and results of retributive justice. What aspect of justice necessitates revenge (namely, capital punishment), and at what price can we find closure? How passive are we in perpetuating violence as individuals and members of a society that demands retributive justice? The director hails from Greece. Amidst their economic collapse, the subsequent rise of fascism and the violence that resulted from it most probably informs the dynamics that play out in his films. Those events are intractable when analyzing the deeper layers of the film. With that said, despite all of the food for thought and the palpable tension aided by slow zooms and an eerily evocative score a la The Shining, it's a very alienating film. Before I was hooked in by the thematic and stylistic elements, I was worried I would have to sit through another over-extended dead pan Lanthimos meditation. It's not ever particularly enjoyable, and sometimes it's just outright boring. While I can appreciate this and his other films, they seem to be more trouble emotionally than they are elucidating of the concepts they explore. It is disturbingly harrowing, an experience of unmitigated psychological terror. Barry Keoghan brings to mind the sociopathic pleasantries of Hannibal Lector with the child-like innocence of Elliot from E.T.. He is a plague upon Colin Farrell and Nicole Kidman's family, yet Farrell is culpable in his own way for the calamities that befall them. By refusing to accept responsibility for his past, he is forced to accept responsibility for what he must do. Regardless of how stilted everyone acts, there is an extremely dark psyche that underlies their performances, and the usual black as night humor that was much more apparent in The Lobster is nearly eradicated by pervasive existential dread. Whether or not that's your thing will probably color your viewing of the film. All entertainment value aside, The Killing of a Sacred Deer is probably Lanthimos' best work as an academic piece and as an overall cinematic experience.
K Nife Churchkey
Super Reviewer
The Horror genre keeps on taking leaps forward in terms of creativity. The Killing of a Sacred Deer, along with It Comes at Night, are two impeccably original horror films that don't play out at all the way you expect, and that's largely the reason why I love them both so much. I haven't seen Yorgos Lanthimos' other work, but what I have seen, is a good number of David Lynch's work. And The Killing of a Sacred Deer sure feels a whole lot like one of his films. Aesthetically, tonally, and Lanthimos' direction all feel straight out of something David Lynch would make. Interestingly enough, as memorable as this film is with its terrifying plot, everything is often very quiet and soft spoken. It's almost like the characters aren't surprised at the events that unfold and that makes it all the more unsettling when horrifying things start to unravel. Contributing to that horror, is the films main antagonist, Martin, played by Barry Keoghan. He was good in Dunkirk over the summer, but his performance as Martin is just about as close to perfection as you can ask for due to how that character is written. I don't want to say too much about what he does, but it's some of the most unsettling things I have ever seen in a movie, period. It's these psychological thriller/horror films that scare me the most. Much of this film is left in ambiguity and up for interpretation, which is part of the reason why I'm not revealing much of the plot at all as I just don't have the answers. But when a film captures the perfect tone and mood, especially in horror, the events tend to speak for themselves and you don't need things to be explained to get what the director wanted you to feel. Overall, The Killing of a Sacred Deer is an extremely difficult film to watch, but not because of gore or violence, more because of the dire events that drive the plot forward. I don't think I'll ever watch the film a second time, but it sure was worth more than a glance. 8.5/10
Thomas Drufke
Super Reviewer
½
HANEKE COMES EARLY - My Review of THE KILLING OF A SACRED DEER (3 1/2 Stars) Director Yorgos Lanthimos and his co-writer Efthymis Filippou have established themselves as the leaders in a cinematic movement I like to call Nouveau Deadpan. Their last collaboration, THE LOBSTER, took that notion to the extremes of low key science fiction and showed the true power of holding back emotions. Stripping the sci-fi conceits with their new film, THE KILLING OF A SACRED DEER, the filmmakers have nowhere to hide with their very specific aesthetic, leaving us with a still startling, still singular film, but perhaps less satisfying that its predecessor. DEER opens with the image of a beating heart undergoing surgery. Nightmares of ALL THAT JAZZ came rushing back to me. Colin Farrell plays Steve Murphy, a Cardiologist, who after the surgery, trades down the hall with his Anesthesiologist Matthew (Bill Camp) as they discuss expensive watches. It's the perfect way to establish the tone of this film, which avoids histrionics in favor of a VERY low-key approach. As with all of his films, Lanthimos asks his actors to perform as if they're in a hyperbaric chamber, think Kubrick with even less oomph! Occasionally their feelings seeps through, and when they do, it can be astonishing. Steve lives with his Ophthalmologist wife Anna (Nicole Kidman) and their two children, 12-year-old Bob (Sunny Suljic, who deeply resembles little Danny from THE SHINING) and 14-year-old, emerging woman Kim (Raffey Cassidy) in an affluent Cincinnati suburb. At the dinner table, they're unfailingly polite with each other. They appear to be a perfect family and perfectly boring, until little cracks start to show, such as a discussion over Bob's hair length or in how Steve and Anna have sex. You'll never think of a general anesthetic in the same way again! The agent of change comes in the form of Martin (DUNKIRK'S Barry Keoghan), a shy, polite teenager who has a cryptic conversation with Steve one day at the hospital. They apparently have a history, but it's unclear if it's a sexual relationship or a surrogate parent/child dynamic at play. The filmmakers dole out the info bit by bit until we discover that Martin's father died on Steve's operating table. Their sporadic interactions play out as perhaps a way for Steve to alleviate his guilt or...it's not completely clear for a while. Lanthimos and Filippou show great control in knowing when to share and when not to, giving the film the feeling that you're holding your breath the entire time. [SPOILER ALERT: NEXT PARAGRAPH] The first shock comes when young Bob suddenly finds himself paralyzed from the waist down. In the most chilling scene in the film, Martin matter-of-factly and hauntingly tells Steve that he has caused Bob's paralysis as an example of what he can do. Steve will have to choose which of his family members will have to die to even the score concerning his father's death. It's a Sophie's Choice of a dilemma for Steve, one which grows more complex when he shares the news with the rest of his family. Everyone starts jockeying for position as "Daddy's Favorite", which would feel darkly comic were the stakes not so bone-chilling. [END SPOILER] Adding to the queasiness is a highly effective sequence in which Martin invites Steve over to dinner as a way to fix him up with his lonely mother (Alicia Silverstone, nailing her one scene). As a supposedly happily married man, Steve rebuffs her advances, a social slight which may just escalate the dread-filled situation. Either way, the Murphy family finds itself in a home-invasion style situation not without its similarities to Michael Haneke's FUNNY GAMES. The film asks how far we would be willing to go to preserve our family? Who should pay for the sins of the father? As the dilemma intensifies, the performances, while always quietly enigmatic, come into clearer focus. Kidman in particular uses her patented iciness to full effect, delivering a performance that builds to the most matter-of-fact monstrousness. Once she zeroes in on what she needs to do, the film reveals its power. Up till then, the horrors are presented so plainly, you may not read them as such until it's too late. As he did with THE LOBSTER, Lanthimos favors an intrusive score. Its operatic and grand qualities don't quite match the sullen underplaying of the performances. It screams for them when they cannot. I'm not sure I'm a fan of this style, but it has become his signature. Frequent Lanthimos Cinematographer Thimios Bakatakis keeps things appropriately still and drab, another signature of their collaboration. While Kidman and Farrell are fantastic in this film, the highest marks must go to Keoghan. He finds such a unique way to realize his character, dripping with sincerity and menace with every syllable, every polite gesture. He reminded me of Michael Pitt in FUNNY GAMES, without any of the smarm. Its a portrait of a potential sociopath as a sweet darling. The final scene, presented in glorious slow motion and without any dialogue, brings the film to its logical conclusion...leaving the audience numb. THE KILLING OF A SACRED DEER is definitely not for everyone. It's a feel-bad movie in so many ways. It's hardly life-affirming, but instead forces us to confront out darkest impulses. It's a haunting psychological thriller, even though its characters often feel dead inside. At times, I felt that Lanthimos was forcing his aesthetic onto his story rather than freeing up his actors to behave as real human beings. I suppose Kidman, Farrell and company were more than happy to work with a filmmaker with his own unique vision, but this is morose stuff...if you're in the mood for that kinda thing.
Glenn Gaylord
Super Reviewer
The Killing of a Sacred Deer Quotes
There are no approved quotes yet for this movie.
Discussion Forum
Discuss The Killing of a Sacred Deer on our Movie forum!