The Last 5 Years
(2015)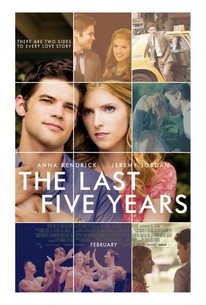 TOMATOMETER
AUDIENCE SCORE
Critic Consensus: The Last Five Years hits a few awkward notes in its transition from stage to screen, but its freshness and sincere charm -- and well-matched stars -- offer their own rewards.
Movie Info
In this adaptation of the hit musical, The Last Five Years is a musical deconstruction of a love affair and a marriage taking place over a five year period. Jamie (Jordan), a young, talented up-and-coming Jewish novelist falls in love with Cathy (Kendrick), a Shiksa Goddess and struggling actress. Their story is told almost entirely through song. All of Cathy's songs begin at the end of their marriage and move backwards in time to the beginning of their love affair, while Jamie's songs start at the beginning of their affair and move forward to the end of their marriage. They meet in the center when Jamie proposes. (C) TWC
People Who Like this movie also like
Critic Reviews for The Last 5 Years
Audience Reviews for The Last 5 Years
It's a musical about the beginning and end of a five-year relationship, and each partner is starting at a different point and meeting in the middle. If that sounds confusing, The Last Five Years will do little to better orient you, the audience, on its criss-crossing narrative-leaping timeline. Anna Kendrick is Cathy, who is traveling from the breakup of her marriage to the moment she met her eventual husband. Jeremy Jordan is Jamie, who is traveling the more linear path of infatuation to marriage to his divorce from Cathy. Neither character is particularly that involving though their eventual conflicts that lead to their parting of ways are more relatable than I was expecting since Jamie becomes a publishing phenom. I was looking for parallels with the song pairings, since we switch from a Cathy song to Jamie song, but the more I listened the more the narrative structure felt like an unjustified gimmick. Director Richard LaGravenese (Beautiful Creatures) feels like he was rushed to complete this film because much of the camerawork feels lacking, losing track of the characters in their long takes. Could he afford to do more than one take? There isn't so much a sense of style or expanding into the medium of film. It feels like LaGravense was grabbing what he could. But that's not the biggest problem. The biggest problem is that for an entirely sung musical (there may be like two lines of spoken dialogue) none of the songs are particularly memorable. Even minutes after finishing the film, I could not for the life of me hum one tune. To be fair the music isn't offensive to the ears, but it falls within this vanilla middle ground that plays like it should be background noise rather than featured music. Kendrick and Jordan do a serviceable job singing these bland songs, but when your movie is wall-to-wall with music that doesn't engage or register, it's the equivalent of a comedy being unfunny. The Last Five Years is a movie musical that is decidedly pleasant and deadly bland. Nate's Grade: C+
Nate Zoebl
Super Reviewer
Based on a stage musical, The Last Five Years explores a couple's relationship; starting with their separation, and then going back to its begin, showing how it grew and then fell apart. The storytelling employs some interesting techniques that are quite effective; especially the transitions between time periods. And, Anna Kendrick gives a strong performance that brings a lot of energy to the film. But the writing is rather poor, as the characters (and their relationship) aren't that engaging. Additionally, there's not really a sense of tragedy or sadness to the breakup. The Last Five Years is fun at times, and entertaining (due largely to the music), but it ultimately fails to tell a compelling story.
Dann Michalski
Super Reviewer
½
Anna Kendrick and Jeremy Jordan are charismatic in this split-timeline, two-hander musical, but the very conceit of her story going backwards and his forwards just doesn't quite work, like how it doesn't quite work on stage either. There's no one to really REACT to in any given scene (until the midpoint proposal of "The Next Ten Minutes"), and the movie seemed to know that going in, so of course, instead of the partner just sitting with his/her back to the audience, there are superfluous "reaction" shots with the partner "reacting" moonily or exasperatedly, and the script doesn't allow for more ad libbing of spoken dialogue, nor does the editing cover up the less than inspired takes. There are lots of big emotions in each of the songs, which is a blessing and a curse. The constant His Story/Her Storying doesn't allow the audience to latch onto an emotional arc. Furthermore, Jaime ogling other women literally ten minutes after getting married, sleeping with a bevy of random hotties while the Cathy's away, and ultimately leaving her with a piddling Dear John letter, are somewhat heavy-handed and unrealistic plot points, despite this musical being based on Jason Robert Brown's own past relationship. Kendrick is catatonically melancholic at the beginning and a triple-threat darling in Cathy's send-up of the grueling showbiz audition circuit, "Climbing Uphill," but ultimately, the movie lacks true pathos.
Alice Shen
Super Reviewer
The Last 5 Years Quotes
| | |
| --- | --- |
| Cathy Hiatt: | Why am I working so hard? These are the people who cast Russell Crowe in a musical! |