The Last Enemy
(2009)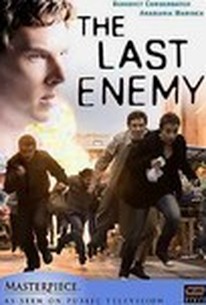 AUDIENCE SCORE
Critic Consensus: No consensus yet.
Movie Info
Benedict Cumberbatch, Max Beesley, and Anamaria Marinca headline this chilling "Masterpiece" production concerning a brilliant mathematician, who is inadvertently drawn into becoming the public face of a massive database designed to track and control the citizens of England. Stephen Ezard is working in China when he receives word that his brother Michael, a benevolent aid worker, has been killed in Afghanistan by a landmine. Returning to England to attend Michael's funeral, Stephen is deeply disturbed to discover just how much his home country has changed since he left to work abroad many years ago. Over the course of those years, Stephen and Michael grew apart, and now the discovery that London has become a police state causes the reclusive genius to wonder just what the world is coming to. After falling in love with his brother's widow Yasim, Stephen is recruited by the government to be the spokesperson for a massive super-database designed to help the government follow the actions and movements of every man, woman, and child in England. As the conspiracy winds ever deeper, and Stephen's paranoia swells, he begins to suspect that no one is who they seem to be. His ability to trust completely eroded, Stephen realizes that it's too late for turning back, and that personal freedom is little more than a distant memory. ~ Jason Buchanan, Rovi
Critic Reviews for The Last Enemy
All Critics (1) | Fresh (1) | Rotten (0)
The British really know how to do political thrillers right. The superb acting, the good pacing and the sharp writing make this five episode mini-series fly by.

Audience Reviews for The Last Enemy
Explores a dystopian future where privacy is on the verge of disheartening. Good cast and acting, but writing and directing left much to be desired. Lack of production value was obvious. While a derivative story, told better elsewhere, it was still entertaining.
Jim Farrell
Cumberbatch shines as a socially inept, shy genius who must come to terms with all aspects of the life he has and the life he wishes to have. Brilliant screenplay, well directed and edited.
Christopher Bergan
For those of us who are deeply concerned about the erosion of privacy, liberty, and freedom to create our own way in the world, this razor-edged thriller about the small gains and major losses when all data collected on a person is centralized and accessible to âauthoritiesâ? is terrifyingly real. The idea has been dumbed down by over-spin and misinformation campaigns, but Benedict Cumberbatchâ(TM)s outstanding performance and the empathy he draws from viewers as he fights for identity itself in a universe of deceptions is unforgettable. The viewer is viscerally involved and mentally challenged to keep from losing his own mind as (s)he watches Cumberbatch frantically try to hold on to his own.
Charles Blaisdell
The Last Enemy Quotes
There are no approved quotes yet for this movie.
Discussion Forum
Discuss The Last Enemy on our Movie forum!