The Last Gladiators
(2013)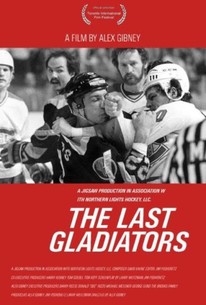 The Last Gladiators Videos
The Last Gladiators Photos
Movie Info
Academy Award (R) Winning Director Alex Gibney examines the NHL's most feared enforcers while also exploring the career of Chris Nilan. (c) Official FB
Rating:
R (for language)
Genre:
, ,
Directed By:
Written By:
In Theaters:
On DVD:
Runtime:
Studio:
Watch it now
Cast
Critic Reviews for The Last Gladiators
Audience Reviews for The Last Gladiators
7/7/15 Netflix Once again a kudo to the doc genre. A tough movie about tough guys, Chris Niland in particular, in a tough sport. While fans may mourn the drop in hockey fighting this movie sure tells why it is for the best for the athletes who play it.
Nick Ueber
½
A movie for hockey fans. For others it will drag. You need to know something about guys like Probert, O'Reilly, Semeknko, McSorley, Schultz & Kelley, Hunter, Brashear, Nilan and what they had to do to play the game they loved. If those names do not ring a bell (ha!) then the struggles of these men will not resonate. They were enforcers, protectors. "Without McSorly there is no Gretzky", as the movie says. The movie centers on Chris Nilan - a former player with a harrowing life story. Here was a guy nicknamed "Knuckles" who did everything he was told to make the big time. He fought. He skated. He was a spark plug. He was born, bred and spent every second of his life doing anything he had to do to be a hockey player. Then the game was done with him and he had nowhere to turn. His father, a former green beret, still thinks Chris should be ashamed of himself. It isn't touchy feely in that household or in the league. Not everyone has the problems that Nilan does - but many do. The movie does not even mention concussions. Bob Probert - the toughest of them all - died at age 45. His brain showed signs of chronic traumatic encephalopathy. Like Junior Seau. And 76 out of 79 former NFL players. Nilan could also play the game. So could Probert. The pure goon (like Twist) is a species that the NHL is eliminating. Fighting became part of the game back during the original 6 days when officials could only see so much. Someone cheap shots your star - officials don't catch it - you send out the big guy to get medieval on the offender. Now with every game recorded from many angles, the league can aggressively punish dirty players and the suspensions are a bigger deterrent than retaliation ever was. There is a fight every 3 games or so this season. It is a dying breed. Good for the game and its credibility. Not so good for the guys that gave their bodies and took on all comers to make the NHL. These were hard men. The shedding of blood as entertainment was a staple during the Roman Empire - but it faded away 100 years before its fall. Thankfully it may also fade away in the NHL. Hockey is the real beautiful game. No athlete gives more to win a championship than those in the NHL with its endless, grueling post season.
Terry Dd
½
Director Alex Gibney approaches his documentary about the brutish enforcers in the NHL with the same kind of enthusiasm he approaches all of his films with. However, there doesn't seem to be enough substance here to make the film as powerful as some of his others. There are some really good moments here, especially with the primary character, Chris Nilan, and with the wealth of footage that Gibney has at his disposal, the film moves along pretty well. It's only in the last 30 minutes of the film where you begin to feel the pace begin to drag. I'm sure fans of the NHL will find more to enjoy about this film than I did.
Nathan Martin
Discussion Forum
Discuss The Last Gladiators on our Movie forum!
News & Features