The Last Godfather
(2011)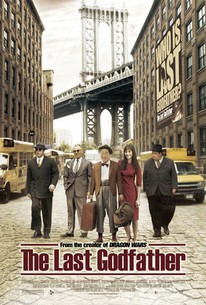 AUDIENCE SCORE
Critic Consensus: No consensus yet.
The Last Godfather Videos
The Last Godfather Photos
Movie Info
"The Last Godfather" is a coproduction between South Korea and the USA. Famous comedian and film director Hyung Rae Shim returns with his latest Hollywood film, this time a comedy. In the 1950s in New York, Mafia boss Don Carini (Harvey Keitel) suddenly brings his lovechild Young-gu (Shim) from Korea, who seems mentally impaired, to train him as his successor. He keeps disappointing everyone by behaving strangely, but finally manages to win the hearts of the gang. However, the mafia's rival refuses to let him take over.--(c) Roadside Attractions
Rating:
PG-13 (for brief sexual humor)
Genre:
,
Directed By:
Written By:
In Theaters:
On DVD:
Runtime:
Studio:
Critic Reviews for The Last Godfather
All Critics (2) | Top Critics (1) | Fresh (0) | Rotten (2)
"The Last Godfather" is more harmlessly amiable than outright awful, though it might still be best to just forget about it.
Los Angeles Times
Top Critic
although not offensively bad, there is little to recommend this knockabout comedy.

Audience Reviews for The Last Godfather
Finally saw this movie. Well worth the wait. I loved this flick. It's a shame I didn't get to see this on the big screen. Lot of laughs and even a few surprises. Jason Mewes proves that he can actually be more than just Silent Bob's loudmouth sidekick. He actually plays a good villain. Definitely an Oscar contender for Best Picture. A++
Kevin Daigle
A great cast plus a horrible script unfortunately equals a bad film. Obviously a spoof on Wiseguy movies this Shim driven vehicle fails to deliver. Shim is a funny physical comic reminiscent of the Three Stooges but this was not the film to do that routine. Keitel was not believable as Shim's father not because he is Caucasian but due to the fact he is not much older than Shim. A bad wig and gangster suit couldn't keep Jason Mewes inner Jay from constantly appearing minus Silent Bob as the rival family lieutenant. Skip this one.
Curtis Reynolds
"A mafia boss trains his mentally impaired son as his successor." I must confess that I have read few film synopses (Look it up and be proud, Grammar Police!) guilty of such derision. I must than admit that even fewER films one-up themselves in the Shame Quotient as the South Korean/American co-production, The Last Godfather, has done just that to itself by naming the "impaired son"--> YOUNG-GOO. This must be the South Korean progression of our dreadfully-Americanized "Fockers" (Meet the Parents etc.) which -- itself -- couldn't help but play/flail around with "the godFocker" term a few times on its very own (in its third "film" in the franchise). Being that both films star Harvey Keitel (Reservoir Dogs, Pulp Fiction, Cop Land, Thelma & Louise) -- !!! TRIPLE EXCLAMATION POINTS IN-ALL-CAPS !!! -- say so much about what we have found oursleves watching. The once highly-respected and lauded Keitel was an elusive "get" (otherwise explain The Piano [shall I dare this upon anyone ... anyone?], Bad Lieutenant, Get Shorty or Bugsy) who's appreciation for craft and the art of movie-making has been hijacked by a lesser-actor going through the motions for a paycheck. I wouldn't bemoan the "loss" of a single actor to this greedy-phenomenon if it didn't actually lessen the entire medium and produce shoddy product. Keitel is just one of the latest in the stream of Hollywood-ized (as I'm sure it is global) sell-outs and the only reason he is getting my time-of-day (at present) is because there is nothing else of interest to mention in this bizarrely juvenile and despicable The Tardfather. Yes -- cringe -- we could cry foul ... but isn't that the word they were REALLY aiming for all along?.
Thomas Williams