The Last Mile
(1932)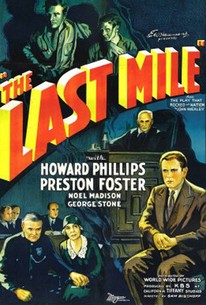 AUDIENCE SCORE
Critic Consensus: No consensus yet.
Movie Info
The Last Mile is the film version of the 1930 John Wexley play which previously brought stage fame to both Spencer Tracy and Clark Gable. Wrongly accused of murder, young businessman Richard Walters (Howard Phillips, repeating his stage role) is sentenced to Death Row. Here he gets swept up in a jail break engineered by the desperate Killer Mears (Preston S. Foster), who grabs the keys of a guard and takes control of the cell block, holding the guards as hostages and freeing the other condemned prisoners. Refusing to accede to Mears' demands for a fast car and head start, the warden precipitates a bloodbath, with Walters caught in the middle of the fray. Ultimately, however, Mears sacrifices his own life in hopes of sparing Walters. In the original play, the Richard Walters character was guilty and went to the electric chair halfway through the first act; in the film, Walters's pathetic farewell speech and "long walk" were inherited by secondary character Berg (George E. Stone). Fairly strong stuff for its time, The Last Mile is actually superior to its more explicit 1959 remake, which starred Mickey Rooney as Killer Mears.
Audience Reviews for The Last Mile
The Last Mile Starring: Howard Phillips, Preston Foster, Alec Francis, and Albert Smith Director: Samuel Bischoff Dick Walters (Phillips) is wrongly convicted of murdering his business partner and just before his execution, he is caught up in a death-house uprising led by "Killer" Mears (Foster). Will Walters survive long enough to learn that he's received a last minute stay of execution? "The Last Mile" is one of those movies that puts the drama in melodrama. Overacted in every conceivable way and showing its roots as a stage play so obviously one wonders why they credited a screenwriter at all, it moves along slowly and predictably. The film also never misses an opportunity to flog its anti-death penalty message, altough one wonders why any of the writers thought Mears would make a good spokes-character for the inhumanity of capital punishment. If anything, he's an argument for taking murderers straight from the courthouse to a gas chamber. I imagine dedicated opponents of capital punishment might find this film a good reaffirmation of their faith, if they can tolerate over-the-top acting from just about the entire cast. As for me, I just found it dull and a little of the mark.
Steve Miller
The Last Mile Quotes
There are no approved quotes yet for this movie.
Discussion Forum
Discuss The Last Mile on our Movie forum!