The Last Mountain
(2011)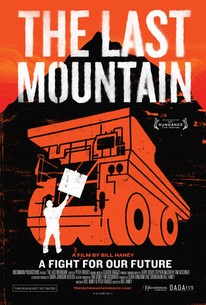 Movie Info
Bill Haney's ecological documentary The Last Mountain traces the horrific ecological fallout from the practice of mountain-top removal that has been employed throughout West Virginia. The filmmakers show how local communities, with the help of such national figures in ecology as Robert F. Kennedy Jr., stand up to industries that are making decisions harmful to their lives. ~ Jason Buchanan, Rovi
Rating:
PG (for some thematic material and brief language)
Genre:
Directed By:
Written By:
In Theaters:
On DVD:
Box Office:
$119,697.00
Runtime:
Studio:
News & Interviews for The Last Mountain
Critic Reviews for The Last Mountain
Audience Reviews for The Last Mountain
½
If the name "Massey Energy" rings a bell, it may be because of the bad press it's gotten in recent years for its 60,000 environmental violations. Massey operates the W.Va. mine where workers were trapped and killed a few years ago. Yes, mining is inherently dangerous, but the documentary points out that Massey seems to make it more so by disregarding worker safety. Apparently, they've also disregarded the environment and the residents of the impoverished little hollow towns where they operate. It's easy enough not to know about or think of the residents of the trailer park near Massey's mountaintop removal (MTR) operation on Coal Mountain. These people have a higher than average incidence of brain tumors. Way higher. Six people in the same cul-de-sac developed brain tumors, including one fetus who was born with a tumor. But, when you consider that W.Va. coal provides the power for (and pollutes the water of) a wide swath of the population from Pa. to Ga., it starts to matter. The movie's heroes are the brilliant environmental attorney/activist Robert F. Kennedy, Jr. and a band of citizen-activists (including former coal miners) who are fighting Massey, their local governments and their state government. (W.Va. Gov. Joe Manchin is a Democrat, so this is not a liberal-vs.-conservative issue.) The film doesn't offer a balanced view (what documentary does?), but the filmmakers do give the coal industry a chance to respond. The president of the W.Va. coal miners association gets a good amount of screen time and comes across as a smart, affable guy. Massey's CEO appears in film footage, but he isn't interviewed. He comes across as a jackass. The Last Mountain is the kind of movie that makes the audience jeer the bad guys and cheer (literally) the small victories by the people fighting City Hall -- and larger authorities. See it.
Page Leggett
½
Documentary on the environmental effects of mountaintop removal coal mining in Coal Mountain, West Virgina. The mountaintop removal process has little to recommend it, but unfortunately so does this suprisingly dull and disorganized polemic.
½
"The Last Mountain" is an insightful and well-photographed documentary, especially in its opening shot of a pristine wilderness followed closely by a smokestack. The subject here is coal mining with a focus on Coal River Mountain in West Virginia which is being targeted for mountain top mining which is the quickest and most cost efficient way to get at the coal. But there is a hidden cost because it destroys the mountain and endangers the health of those living below through flooding and carcinogens. This is not a purely local issue either as the power from the coal mined there supplies a good deal of the eastern United States. "The Last Mountain" fares best when it focuses on people living near the affected mountains along with local activists fighting the coal company's destructive efforts. I know Robert F. Kennedy Jr. has his role to play in the access and attention he gets but this is never really his story. Whereas like any good activist, I appreciate acts of civil disobedience, it would probably be best for a grass roots effort to educate the local workers about coal's ill effects and remind them that they are not out to cost them their jobs while also looking to unionize them. Also, they can support candidates who will challenge the coal companies. And I like the emphasis on renewable energy like wind farms which demonstrate some hope for the future.
The Last Mountain Quotes
There are no approved quotes yet for this movie.