The Last of Mrs. Cheyney
(1937)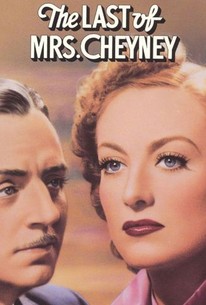 AUDIENCE SCORE
Critic Consensus: No consensus yet.
The Last of Mrs. Cheyney Photos
Movie Info
Based on a popular drawing-room drama by Frederick Lonsdale, The Last of Mrs. Cheyney stars Joan Crawford as a jewel thief who poses as an aristocrat. It is Crawford's intention to pilfer a valuable pearl necklace while attending a society party in the company of partner-in-crime William Powell. Here she attracts the attention of Robert Montgomery, a young nobleman who is amused by Crawford's wittiness in the face of the haughty bitchery of Benita Hume. When Montgomery turns out to be a bounder and Powell and Crawford are revealed to be criminals, Crawford does some quick thinking that not only gets her off the hook but puts the two-faced Montgomery in his place as well. Previously filmed in 1929 with Norma Shearer in the lead, The Last of Mrs. Cheyney would itself be remade in 1951 as The Law and the Lady, with Greer Garson as the heroine.
Audience Reviews for The Last of Mrs. Cheyney
I've met many women I'd rather die for than live with. The widowed Mrs. Cheyney is discovered on a boat by a rich playboy and a rich elder gentleman. They both take interest in her and invite her back to a charity event at the duchesses. The two smitten men may think Mrs. Cheyney is available to fall in love but she may have her own agenda. "One is always willing to pay a little more for something they really want." Richard Boleslawski, director of The Painted Veil, Les Miserables, Metropolitan, Three Godfathers, The Garden of Allah, and Theodora Goes Wild, delivers The Last of Mrs. Cheyney. The storyline for this picture is fairly interesting and becomes more interesting when you discover it is a potential caper picture. The acting is very good and the cast delivers worthwhile performances. The cast includes Joan Crawford, Robert Montgomery, William Powell, and Frank Morgan. "I don't feel comfortable being alone with you...even on the telephone." After watching Les Miserables (which I loved) I saw the same director had a film coming up on Turner Classic Movies (TCM) with Joan Crawford so I had to record it. I found the film fairly good and the plot was worth watching unfold. The end was fairly clever and a bit unpredictable. This isn't my favorite Joan Crawford movie but it was entertaining. "The most difficult question to ask a woman is a nice one." Grade: B
Kevin Robbins
½
Joan Crawford as a Jewel Thief who claims to hail from MPLS., Minnestota had, of course, enormous appeal as I have been a Fine Jewelry Store owner with my Hubby(R.I.P) since 1987 in Minnesota.She makes the most Delightful & Elegant Con Artist/Jewel Thief who cons her way into Society.This is much better than the Norma Shearer version of 1929, although I also adore Norma Shearer.I tribute that to the Cool Beauty of Joan Crawford, the Great Sets, & the Fabulous Fashions by the one & only Adrian.
Marilee Aschwanden
½
JOAN CRAWFORD IS GREAT. WHAT A CAST, A LOT OF THE TOP MGM STARS FROM THE TIME - ROBERT MONTGOMERY, OF COURSE JOAN, WILLIAM POWELL - SUPPORTING STAPLES FRANK MORGAN, JESSIE RALPH AND NIGEL BRUCE. GLOSSY MGM PRODUCTION, FIRST RATE FILM. A DUD IN 1937, BUT LOOKS GOOD TODAY.
James Higgins
The Last of Mrs. Cheyney Quotes
There are no approved quotes yet for this movie.
Discussion Forum
Discuss The Last of Mrs. Cheyney on our Movie forum!