The LBJ Tapes - The Johnson White House Tapes
(2005)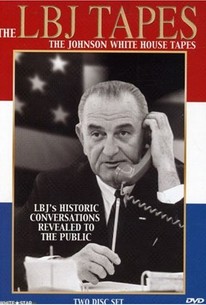 AUDIENCE SCORE
Critic Consensus: No consensus yet.
Movie Info
Paranoid and fearful of history's verdict, President Lyndon B. Johnson secretly placed a bugging device across his own line to leave a permanent record of his tumultuous years in power. For the first time this Peabody Award winning series takes you into the Oval Office as one of America's most controversial presidents fights for social justice and drags America into the quagmire of Vietnam. Was Johnson a villain, a great man or a victim of forces he couldn't control? Now you can be the judge. VOLUME 1 HELLO, MR. PRESIDENT: Johnson's first call as president was to Mrs. Rose Kennedy made from Air Force One on the flight back from Dallas with JFK's body. Mrs, Kennedy tells Johnson, "I know you loved Jack and he loved you". In her first ever interview Marie Fehmer, Johnson's personal secretary, describes the mood aboard the plane, the silence and the overwhelming sense of grief. Johnson knew these were historic days, and he ordered Marie Fehmer to begin recording all calls in and out of the Oval Office. That decision now provides a unique insight into the most turbulent transition in American history. The recording device captured the full range of the Texan's volcanic personality, the charmer, the cajoler, the intimidator, the visionary. It also captured history in its purest form. For 35 years the existence of the tapes was a well kept secret. Now these voices bring back haunting memories of an American nightmare. VOLUME 2:OBSESSION: RFK vs. LBJ: It was one of the great political rivalries in American history. Two men brought together in tragedy, both fighting to undermine and destroy the other. Yet, it was Bobby who wanted to become Johnson's running mate in the 1964 election, a stepping stone as he saw it to the restoration of Camelot. Johnson, fearing that Kennedy's spies surround him, tells his press secretary George Reedy that he wants to quit. Reedy recounts how he came to believe that his boss was rapidly becoming a manic-depressive. VOLUME 3 INTO VIETNAM: PLAYING WITH THE TRUTH: On August 4th, 1964, following an alleged attack by North Vietnamese gunboats on the USS Maddox, the Johnson administration went to war. In the days that followed, Johnson received congressional support to take whatever action he deemed necessary to stem the Communist tide in Southeast Asia. Now, thanks to Johnson's taping system, it's possible to piece together the story that the American people were never told. The White House recordings reveal how Johnson and his inner circle plotted to provoke an incident and to initiate a cover up. The deception, which was to characterize Johnson's Vietnam policy, had begun. VOLUME 4 UNCIVIL LIBERTIES: HOOVER & KING: This is the story of two men locked in mortal combat, Johnson's FBI director J. Edgar Hoover and Dr. Martin Luther King. It's a story set against a backdrop of Johnson's efforts to secure passage of the 1964 Civil Rights bill. The taping system captures Johnson's pledge to King to be worthy of his trust. All this lobbying took place as Hoover embarked on illegal wiretaps and hotel break-ins designed to catch the civil rights leader with prostitutes. This amazing drama finds Hoover launching a blackmail campaign designed to force King to kill himself.
Critic Reviews for The LBJ Tapes - The Johnson White House Tapes
There are no critic reviews yet for The LBJ Tapes - The Johnson White House Tapes. Keep checking Rotten Tomatoes for updates!
Audience Reviews for The LBJ Tapes - The Johnson White House Tapes
There are no featured reviews for The LBJ Tapes - The Johnson White House Tapes at this time.
The LBJ Tapes - The Johnson White House Tapes Quotes
There are no approved quotes yet for this movie.
Discussion Forum
Discuss The LBJ Tapes - The Johnson White House Tapes on our Movie forum!