The Lego Ninjago Movie
(2017)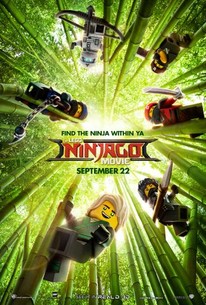 TOMATOMETER
AUDIENCE SCORE
Critic Consensus: Despite ample charm and a few solid gags, The Lego Ninjago Movie suggests this franchise's formula isn't clicking like it used to.
The Lego Ninjago Movie Videos
The Lego Ninjago Movie Photos
Movie Info
In this big-screen NINJAGO adventure, the battle for NINJAGO City calls to action young Master Builder Lloyd, aka the Green Ninja, along with his friends, who are all secret ninja warriors. Led by Master Wu, as wise-cracking as he is wise, they must defeat evil warlord Garmadon, The Worst Guy Ever, who also happens to be Lloyd's dad. Pitting mech against mech and father against son, the epic showdown will test this fierce but undisciplined team of modern-day ninjas who must learn to check their egos and pull together to unleash their inner power of Spinjitzu.
News & Interviews for The Lego Ninjago Movie
Critic Reviews for The Lego Ninjago Movie
Audience Reviews for The Lego Ninjago Movie
½
Whether we wanted it or not, a LEGO Ninjago movie was inevitable. LEGO is cresting high right now, and Ninjago is perhaps their most popular original line. Unfortunately for its very young fanbase The Lego Ninjago Movie bears little in common with its established story and long running series. Which is probably good for the rest of us, as the LEGO Ninjago mythology is incredibly convoluted and obtuse. The plot settles on the well-trod path of fathers and their sons, which The LEGO Movie and The LEGO Batman Movie used to great effect. This theme does provide some effective dramatic moments, but it is subject to diminishing returns and the formula feels a bit stale this time around. More damningly, LEGO Ninjago, like the Kingsman sequel, does slightly become the thing that its predecessors were poking fun at, and it feels a bit more nakedly a commercial this time around. Dave Franco, Justin Theroux, and Jackie Chan put in some good work and there are a few laughs to be had. And of course, Ninjago looks fantastic with a broad color palette and a fun LEGO logic that will probably bring out your inner 8-year-old. It's fairly weak as a picture, but I can think of worse movies to entertain your child with.
Joshua Sheetz
Super Reviewer
½
Well, the time has come, but admittedly, it came a little quicker than I thought it might. The LEGO Movie brand has seemingly run out of gas in what is no doubt only its first act. Though it was just in February of this year that it seemed it was the LEGO brand, behind Marvel of course, that was having the most success in carving their own path out of a recognizable brand things have quickly changed with the rise of Wonder Woman and the misstep that is The LEGO Ninjago Movie. After blowing all expectations out of the water with The LEGO Movie directors Phil Lord and Chris Miller (Cloudy With a Chance of Meatballs, 21 & 22 Jump Street) set not only a precedent for any sequels and spin-offs that might come in the wake of their success, but they also set a very specific tone that has now served as the signature trait of that initial film, The LEGO Batman Movie from earlier this year, and now Ninjago as it attempts to be just as irreverent as its predecessors. Ninjago is different though in that, while the first film had the brand as a whole to market and LEGO Batman obviously had Batman as a marketing tool, Ninjago is a specific line of toys from the Lego brand that has made its way into a television show and now a feature film. The point being that, because it has narrowed the brand down into such a specific line of toys it has narrowed the appeal as well. That isn't to say that just because Ninjago isn't as immediately recognizable or notable as the brand's previous outings that it immediately carries less weight, but rather that it has more to prove to more people. The LEGO Movie itself had a lot to prove, but surprised everyone when it was able to balance its great sense of humor with real heart while Ninjago more or less seems to be piggybacking off that style rather than coming up with a unique voice of its own through which to convey its movie. It was always going to be curious how Warner Bros. Animation went forward with the Lego universe in terms of each of the films sharing a similar tone or if they would divert according to the toy line and/or type of story they were telling, but with Batman and now Ninjago it is pretty clear each "LEGO Movie" will follow suit in the self-aware and spoof-like nature of that original outing. While this isn't the worst thing in the world it already feels somewhat tired three films in and though the movie's trio of directors who have plenty of experience between them have done well to follow the precedent set by other Lego pictures they have done little to help Ninjago stand enough apart from them for it to be memorable. read the whole review at www.reviewsfromabed.com
Philip Price
Super Reviewer
The Lego Ninjago Movie doesn't have what previous theatrical Lego movies have. What makes this movie very lacking compared to The Lego Batman Movie and The Lego Movie is that it wasn't built to make the laughter last longer if someone would see this again and again.
EpicLadySponge the Adventurer
Super Reviewer
The Lego Ninjago Movie Quotes
There are no approved quotes yet for this movie.
Discussion Forum
Discuss The Lego Ninjago Movie on our Movie forum!