The Lineup
(1958)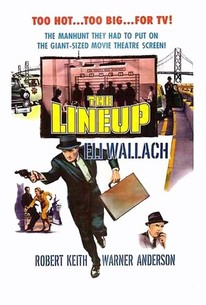 Movie Info
A steamship docks in San Francisco, and as one of the passengers, Philip Dressler (Raymond Bailey), is waiting for a cab after clearing customs, a baggage handler suddenly grabs one of his cases and throws it into a taxi, which takes off. In the ensuing getaway, a police officer is killed, but not before he gets off a shot that takes the fleeing cab driver's life. What Lieutenant Ben Guthrie (Warner Anderson) and Inspector Al Quine (Emile G. Meyer) can't figure out is why two men are suddenly dead within a matter of seconds, all for a seemingly inexplicable baggage snatch. The truth begins to come out when an examination reveals that a small ornamental statue in Dressler's case is loaded with half a million dollars in pure heroin. Then the bodies start turning up -- beginning with a baggage handler at the docks. Guthrie and Quine uncover a plan by a drug syndicate to use innocent, unsuspecting tourists visiting the Far East as unknowing drug couriers -- and now that the original method of retrieval at the docks has unraveled, thanks to the wheelman being an addict who got himself killed, another method is improvised. Enter a pair of hitmen from out of town, Dancer (Eli Wallach), a soft-spoken psychopath with a perfect memory and not a trace of conscience, and his philosophical mentor and "handler," Julian (Robert Keith). Taken around San Francisco by their mob-employed driver, Sandy McLain (Richard Jaeckel), a juicehead who's not quite as good a wheelman as he thinks he is, the hitmen start collecting the latest shipment of heroin from three new arrivals: a ship's crew member who knows too much for his own good, a wealthy husband and wife, and a woman and her young daughter. They calmly go about their business, Dancer and his silenced pistol taking care of any "problems" while Julian runs interference and discusses issues of grammar and speech with him, and adds to his collection of "last words" from Dancer's victims -- until the last shipment turns up missing. It seems the little girl (Cheryl Callaway) found the bag of white powder hidden on the doll her mother bought her, and used it to powder the doll's face....Now Dancer and Julian have to disrupt the planned drop to "The Man" (Vaughn Taylor) to explain the short count, and to do that they have to keep the little girl and her mother (Mary Laroche) alive, at least long enough to tell their story. Meanwhile, Guthrie and Quine keep getting closer, following the trail of bodies and putting together a description of the two killers. But can they find them before the kidnapped mother and daughter join the other victims?
Rating:
NR
Genre:
, , , ,
Directed By:
Written By:
In Theaters:
On DVD:
Runtime:
Studio:
Columbia Pictures
Critic Reviews for The Lineup
Audience Reviews for The Lineup
sorry this movie is so NOT a noir movie not darkness or shadows no weird camera angles no femme fatale thoigh it is set in the noir capitol san francisco
Greg Wood
½
Finally caught up with Don Siegel's THE LINEUP as part of an Eli Wallach retro in LA. Another great example of the Don Siegel cool. This is a guy who can take the nastiest characters and make them sweet. The sweetest characters and make them nasty. THE LINEUP is slow and purposeful. And it just keeps going and you never no where. Like all Siegel, the film is the epitome of cool because it doesn't know it's cool and doesn't try.I just love Don Siegel!
Michael Lupetin
wow absolutely terrific. don't let the slow start fool u into thinking it's some kind of boring detective story. outstanding performance by eli wallach in one of his first roles. i'd venture to call it one of siegel's best films
Stella Dallas
Super Reviewer
The Lineup Quotes
There are no approved quotes yet for this movie.
Discussion Forum
Discuss The Lineup on our Movie forum!