The Local
(2008)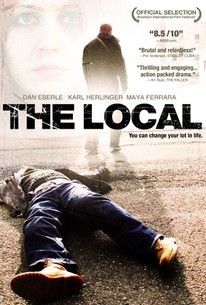 AUDIENCE SCORE
Critic Consensus: No consensus yet.
Movie Info
A desperate drug runner ensnared in the Brooklyn underworld takes one last shot at redemption by rescuing the heroin-addicted daughter of a wealthy businessman. Noname is a man with a troubled past, and no future in sight. He runs drugs for a group of psychotic veterans; a simple way of surviving for a man who's never amounted to anything. When a wealthy stranger offers Noname a healthy paycheck to conduct a dangerous urban rescue mission, the gruff criminal eagerly accepts. Noname's boss has hooked the businessman's daughter on heroin, and he's currently holding the girl in his heavily fortified hideout. The job won't be easy, but should Noname succeed in rescuing her, he vows to give up his self-destructive ways and finally do something meaningful with his life
Critic Reviews for The Local
There are no critic reviews yet for The Local. Keep checking Rotten Tomatoes for updates!
Audience Reviews for The Local
A gritty, under acted, slight let down. It's a good movie and had a decent plot but with a plot line it had, felt like there should of been more action.
Bill Regan
Oh my God I just watched what is easily the best movie of 09. I had no idea the film I was watching was written, directed, and produced by the main guy in the film. I haven`t gotten a rush like this since The Departed. Move over Tarantino, out of the way Ritchie, look out Scorsese. I can`t believe I am writing the first review of this film. What are you people watching out there. This guy deserves to be nominated for a bunch of Oscars. Why isn`t Hollywood throwing money at this guy too make more movies, that I can watch. How come Dan`s not in France getting the Palme d`Or already. This is a great example of film making at its finest. Its amazing and you have to watch it. The Local will make you go Local. MOVIE DICK OVER AND OUT
mike hawke
Dan Eberle plays the good guy having to do bad things to survive. You cannot help but want him to live and find a better life. Finally he has a chance to save a girl and get her back to her father. To do so he must do more bad things. I kept thinking that Dan would be a great choice for a new Billy Jack film. Rumor was that a script was in the making a coupe years ago. On the down side: Way too much swearing and tough-guy machismo from some of the other characters. The F bombs just start to become tiresome. Dan E. pulls this film out of the quagmire by his character. Great job Dan. dd
David Dubuc
The Local Quotes
There are no approved quotes yet for this movie.
Discussion Forum
Discuss The Local on our Movie forum!