The Lovers (Les Amants)
(1959)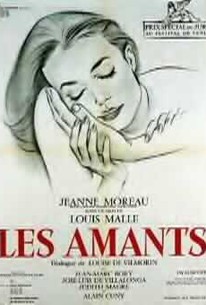 Movie Info
The Lovers (Les Amants) furthered the reputations of both director Louis Malle and star Jeanne Moreau -- and also pushed the boundaries of American censorship (1959 vintage) to the breaking point. Moreau plays a humdrum housewife whose life brightens considerably when she meets a handsome young archeologist (Jean-Marc Bory). The two enjoy an exquisite evening in the boudoir, and when comes the dawn, Moreau has gained a whole new outlook on things. She abandons her family in favor of Bory, even though neither has the slightest notion of what the future will hold. The Lovers gained notoriety upon its first release as the Movie With the Nude Scene: though a model of decorum by today's standards (the most suggestive moment is a shot of Moreau's hand falling limply on the bedsheets), the scene provided fodder for outraged guardians of public morals for several years. One hapless Cleveland theatre owner was arrested on an obscenity charge, a case that went all the way to the Supreme Court. The Venice Film festival took a more liberal stance on the matter, awarding The Lovers a special jury prize. ~ Hal Erickson, Rovi
Critic Reviews for The Lovers (Les Amants)
All Critics (9) | Fresh (9) | Rotten (0) | DVD (2)
This film is nowhere close to Ophuls's landmark, but it did inaugurate Moreau's extraordinary run of '60s art films in high style.

The romantic drama is about a good hump going a long way for a horny chic lady.

Ozus' World Movie Reviews
Audience Reviews for The Lovers (Les Amants)
Louis Malle's first feature is more conservative than the typical French New Wave classic, but it's an impressive, polished debut. The glaring problem is that the first half is far more interesting than the second. We're introduced to Jeanne (Jeanne Moreau, back when she could still pass for "girlish"), a bored, neglected wife married to a wealthy newspaper publisher. She escapes her joyless life with steady trips to Paris, where she sees her socialite friend Maggy and a polo-playing paramour. The subtle tensions between these characters are engrossing, but the film sinks once Jeanne meets another man and the story turns into a gooey, dreamy-eyed romance based on no obvious chemistry or motive. "The Lovers" was quite controversial in its day, due to a late sex scene where Moreau's expression of ecstasy suggests some intimate stimulation below. Oh, and there are a few flashes of nipple too. But it's all very tame by contemporary standards.
Eric Broome
Super Reviewer
Aesthetically speaking, this is a truly beautiful piece, and Louis Malle does wonders with that aspect alone. On top of being a photographic triumph, the movie makes a lot of bold decisions in terms of sexual depictions, especially in regards to adultery. It's a very sensual experience, and is quite influential in a lot of ways. All that being said, the shallowness of the protagonist is a bit wearisome and a lot of the character's actions seem to work in favor of brisk plot development rather than realistic human tendencies. The movie sums itself up too quickly for the amount of material crammed in, and it does a lot of damage to how well transitions play out. Worth a look for its achievements.
jeanne moreau is intriguing to watch. fascinating exploration of the bourgeois and immensely bored. the plot was way ahead of its time -- interesting that this was filmed in the late 50's
Stefanie C
Super Reviewer
The Lovers (Les Amants) Quotes
There are no approved quotes yet for this movie.
Discussion Forum
Discuss The Lovers (Les Amants) on our Movie forum!