The Low Life
(1996)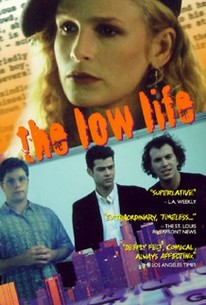 Movie Info
In this drama set in Los Angeles, a group of Yale graduates spend their days as mindless workers at a mundane job and their nights as mooching barflies who enjoy cutting down other patrons with their smart-mouth comments. The main character John loses his roommate and must move into the filthy apartment of Andy, a strange sort who collects and paints Nazi soldier figurines. John later gets a temporary job with a conniving slum lord. Following a failed romance, John suffers a "controlled mental breakdown."
Rating:
R
Genre:
, ,
Directed By:
Written By:
In Theaters:
On DVD:
Runtime:
Studio:
Vanguard
Critic Reviews for The Low Life
Audience Reviews for The Low Life
Well I can see why no one else has seen this. Kyra Sedgwick is as bafflingly obnoxious as always. Something about that woman just annoys the fuck out of me regardless of what she plays or how she plays it. It just dawned on me: She's the female version of Nicolas Cage, who I also loathe for reasons I'm still incapable of explaining. It all suddenly makes sense!
Jamie B
This is one of the worst movies i have seen to date, the best part was Christian J. Meoli ... Leonard attempting to act jumping up and down outside the bar, kind-of like i wanted to do on the DVD, to spare the rest of humanity the agony of watching this shitty film. It has a great cast so you keep watching waiting for it to get good, i mean with Sean Astin ... Andrew (played his part perfectly, did a great job, too bad it was in this film), Kyra Sedgwick ... Bevan, Ron Livingston ... Chad, Renée Zellweger ... Poet (they put her name on the cover she has a total of 1 line and less then 4 seconds in the whole movie... If the cast had any dignity, they would go out and buy all the copies of this film and burn them along with Writer / Director George Hickenlooper and Writer John Enbom
mark stern
½
low life was interested to see cuz i like off-beat movies. this was depressing and frustrating, however the acting was good
maggie farag