The Maggie
(1954)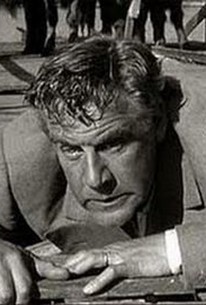 AUDIENCE SCORE
Critic Consensus: No consensus yet.
Movie Info
In this British comedy, an American businessman is tricked into sending his cargo, bound for a Scottish isle, upon a broken down old train.
Rating:
NR
Genre:
,
Directed By:
Written By:
In Theaters:
Runtime:
Studio:
Universal
Audience Reviews for The Maggie
½
The Maggie is one of Ealing Studios finest comedies. It is director Alexander MacKendrick's take on modern versus traditional views in Scotland after the 2d WW and on American corporate values in Britain. The interplay is quite interesting, when one considers that MacKendrick was an American who was raised in Scotland and eventually returned to live in the U.S. One senses a longing on the part of the writer, William Rose, for a vanishing coastal Scotland, and all the values that were incorporated by that rural society. The story began as others in Glasgow represented new values and the Captain of the Maggie, played by Alex MacKenzie, and his crew encountered problems in this urban atmosphere in which they were so out of play. The lead character, called the American and played Paul Douglas, was an even greater displacement for the crew of the Maggie but could even be seen as pushing along his own employees as he referred to some as being incompetent and one mentioned that when she sought to leave he doubled her salary. He believed that his modern fixations with time being an obsession and money being of paramount importance were even somewhat much for the Scottish in Glasgow of the early 1950s. The comedy works because, the American and his employees are forced to adopt to a mode of life in which we can all empathize. Although the Maggie's captain is a bit of a scoundrel, his purpose is never self profit, it is merely to keep his ship operating. The American who is defrauded, and he is without a doubt, has vindictive motives, is overbearing and does not gain any sympathy until he undergoes a series of humiliating experiences, most of which are surprisingly instigated by the cabin boy, who would be the hero if there was one. Some comments regarding the cabin boy. The lad certainly is the catalyst for much of the action that causes the plot to move. To reveal too much would be inappropriate, however, it suffices to say that the arrest of the assistant, the dock, the washboard and so forth were all at this instigation. It does make the one weakness in the plot construction as it is a bit too convenient and easy for my taste. That said, it does work doesn't it. All in all, a wonderful movie.
Thomas Friedman
Ealing comedies are the sweetest and the charmingest and pretty much the best movies ever. I think this may be the ultimate Ealing comedy. Not necessarily the best--too many of them are too great for a best--but the culmination of the Ealing comedy spirit. Glorious.
Davey Morrison Dillard