The Marine: Homefront
(2013)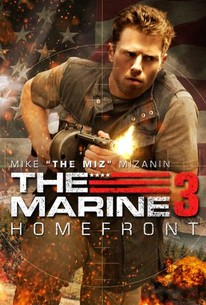 AUDIENCE SCORE
Critic Consensus: No consensus yet.
The Marine: Homefront Videos
The Marine: Homefront Photos
Movie Info
WWE superstar Mike "The Miz" Mizanin delivers a knock-out performance in the most explosive, action-packed Marine adventure yet. After returning to his hometown on leave, Sgt. Jake Carter learns that his sister has been abducted by a band of violent extremists. To save her, Carter launches a daring one-man assault on their base of operations...only to discover the group's ruthless leader is plotting a deadly terrorist strike. With time running out, Carter realizes he's the only man who can stop the impending massacre -- but this American hero may have to make the ultimate sacrifice to save thousands of innocent lives.
Rating:
R (for violence and language)
Genre:
Directed By:
Written By:
On DVD:
Runtime:
Studio:
Twentieth Century Fox Home Entertainment
Critic Reviews for The Marine: Homefront
All Critics (1) | Fresh (1) | Rotten (0)
In the end, The Marine 3: Homefront will do in a pinch, if you're looking for an entertaining actioner to fill a few hours on the weekend.

Audience Reviews for The Marine: Homefront
Wow is this movie bad. Ever see a movie where not only does nothing make sense but everything actively defies all logic? Well this is worse than that.
Matthew Kaplan
½
It's safe to say that Mike "The Miz" Mizanin's favorite catchphrase "Awwwwwsome!!" won't be used to describe The Marine 3:Homefront. WWE Studios' signature franchise, best known for packing more slow-motion dives away from explosions than the action genre has ever seen, has been on a rapidly deteriorating path ever since John Cena led the first film back in 2006. With shoddy direction by Scott Wiper and a charisma-free performance by Mizanin, 'Homefront' makes the other two installments look like fine art by comparison. The WWE has always had a close relationship with the military, and TheMarine series is just another way in which they pay tribute. It's a worthwhile idea, but would mean a whole lot more if they spent a little time bringing in some quality talent to make it work. After an intro that resembles a military recruitment ad, we're introduced to Marine Sgt. Jake Carter, who returns to his tiny hometown of Bridgeton for two weeks of rest and relaxation. There's some mystery whether or not PTSD factors into his situation, but for some reason Jake is a complete powder keg and loose cannon. He quickly gets under the skin of his two sisters, Lilly (the talented Ashley Bell) and Amanda (Camille Sullivan), and gets into a fight at the local bar. Floundering and unable to acclimate back into society even for five minutes, Jake lucks out when Lilly and her boyfriend witness a murder committed by Pope (Neal McDonough), a left-wing radical planning some sort of extremist Occupy Wall Street terror display. Seriously. When his gang kidnaps Lilly to keep her quiet, Jake finally has something to do, which is spring into action guns loaded. Or at least that's what one would expect, considering that's all The Marine movies are around for. But actually that's not what happens at all. Instead, Jake finds himself kept on the sideline while a sadistic FBI agent runs the show, callously sending his men into a battlefield where they get wiped out by Pope's heavily armed goons. After roughly an hour of poorly-staged action by characters we could care less about, Mizanin finally gets a chance to put his in-ring talents on full display. Mizanin, who began his career on MTV's The Real World before becoming a WWE superstar, has grown by leaps and bounds as a pro wrestler. His charisma is boundless in the squared circle, but he hasn't discovered how to tap into it as a film star. He seems to be leaning on what works for him on Monday Night Raw, which doesn't exactly call for a lot of nuance. Fortunately his physicality and athleticism go a long way, and he gets a couple of impressive, brutal fight scenes. Not that anyone was expecting a lot of subtlety to the script, but it's laughably bone-headed in a number of ways. It's especially noticeable when situations that require a little finesse are approached, such as Jake's inability to fit in to normal society, or Pope's incomprehensible ramblings about economic inequality. Nor is Jake's military experience much of a factor, as he bulls into the fighting without a hint of strategy. Not that it matters because there's never really any threat to him, anyway. Numerous times Jake's enemies get the jump on him with assault rifles but miss from pointblank range, only to be quickly dispatched moments later. Scott Wiper, who directed the underrated actioner The Condemned, has zero idea how to frame the action, but no matter what he chooses it's always dull. When he too gets bored of his own camerawork, Wiper trots out a jarring first-person perspective that simply makes no logical sense. There isn't an awful lot that The Marine 3: Homefront gets right, even wasting the talents of The Last Exorcism's Ashley Bell and generally enjoyable Neal McDonough. Chances are there will be a fourth film, with some other WWE superstar in the title role, but hopefully after three straight total disasters they'll take this as an opportunity to tap out.
Travis Hopson
The Marine: Homefront Quotes
There are no approved quotes yet for this movie.