The Masque of the Red Death
(1991)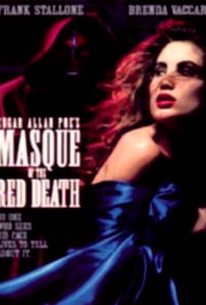 AUDIENCE SCORE
Critic Consensus: No consensus yet.
Movie Info
A contemporary version of the masterpiece by Edgar Allan Poe follows a photographer (Michelle McBride) as she spies on a soap-opera star at a party in Bavaria. She must solve the crimes when several guests are murdered by someone in a skull mask and red coat.
Rating:
R
Genre:
Directed By:
Written By:
On DVD:
Runtime:
Studio:
21st Century
Critic Reviews for The Masque of the Red Death
There are no critic reviews yet for The Masque of the Red Death. Keep checking Rotten Tomatoes for updates!
Audience Reviews for The Masque of the Red Death
There's a moment during the opening credits of the 1990 Harry Alan Towers-produced version of [i]Masque of the Red Death[/i] (not to be confused with the 1990 Roger Corman-produced one) that sums up the film's quality so perfectly. No, not the first cast credit, which reads "Starring Frank Stallone," though that's certainly a good indication of what you're in for. No, it's the credit "Based on a Story by Edgar Allen Poe," coupled with the image of a blonde woman driving a white convertable down a highway. Just, of course, as Poe imagined it. So right off the bat you figure out that this is going to bear as much resemblance to the Poe story as an Egg McMuffin does to a denver omlette, and that's a good thing, as then the stupidity to follow won't seem like much of a surprise. The story it just meant to be the basis for a party being thrown at a castle by rich guy Ludwig, played by Herbert Lom. There's the occasional other Poe reference--a pendulum, a raven, the set from Harry Alan Towers' [i]The House of Usher[/i] being used again#--but essentially it's just [i]Ten Little Indians[/i] with more costumes. (Not to be confused with the 1989 [i]Ten Little Indians[/i], also produced by Harry Alan Towers and starring Lom, Stallone and Brenda Vaccaro, and probably shot on the same lot. Oy.) Our heroine is a reporter by the name of Rebecca, who sneaks into the party using a forged invitation in order to snap pictures of soap diva Vaccaro. Rebecca is played by Michelle McBride, whom you think at first is a terrible actress, but then has a scene with Frank Stallone that makes you realize what terrible acting[i] really[/i] is. In fact, the acting in the whole thing is awful, with the exception of Lom and Vaccaro, and everyone seems to confuse "upper class British" with "flamboyantly gay," resulting in some of the most unconvincing heterosexuals I've ever seen in a horror flick.* Anyway, it's a big costume party, and Rebecca finds herself seated at the table of honor with Ludwig, who doesn't seem to wonder for a moment who the hell she is or why she's mingling with his friends. The group at the main table is composed of Ludwig's other (sexual) conquests and Frank Stallone, so that's just a little weird. Pretty soon, some red-hooded, red-masqued psycho is offing the main cast, and after the third murder, the rest of the party starts to dry up. Why does it take this long before every else panics and only the main cast is left in the castle? This is just one of many, many unanswered questions you may have at this point, should you ever happen to watch Masque of the Red Death, but let's face it, you saw the words "Frank Stallone" and immediately decided that you probably shouldn't ever bother seeking this out. So Ludwig locks up the remaining cast to scope out the killer, the possibility that they may have escaped with all the rest of the partygoers never coming up. One by one, folks die and the killer is eventually revealed. It's a stupid ending. [i]Masque of the Red Death[/i] is a movie of such unrelenting stupidity that when clever moments seeped in, it was like a pleasant surprise. One death-by-loom is especially nice, and the killer's outfit might have made for an interesting villain if he didn't keep making seventh-rate wisecracks. It actually makes for moments of genuine entertainment in the midst of the unintentional snickering you'll end up doing--especially when a black cat randomly jumps into frame from out of nowhere, or, more accurately, is tossed absently into the frame by as disinterested P.A. in the middle of a scene that's managed to build up no tension whatsoever. And there's really no tension at all in Masque that's not dependent on characters doing incredibly stupid things. Our leading lady, for example, is supposed to be bright and spunky, but she's one of the dumbest movie heroines I've seen in a slasher film, blissfully walking past the "dead" bad guy at the end and at one point trying to stop a gear-operated device with her hands. (This actually would have been an interesting sequence if it involved her trying to stop it by doing something effective, but it's not, so it's just a good setpiece wasted.) [i]Masque of the Red Death[/i] is a stupid movie with enough plot holes to store a dozen tell-tale hearts, but I can't honestly say I had a terrible time watching it. Okay, so I don't think Edgar Allen Poe had a shitty 80's glam soft rock band in mind when he wrote the story, but there's some low-level fun to be had here. Just don't try to think about it as it may make your brain hurt. [size=1]# -- Okay, so it's not actually a reference. It's just Towers being cheap.[/size] [size=1]* -- One of the performances is, in fact, so ridiculous that I couldn't figure out if it was bad acting or not. Christine Lunde plays a woman with a French accent that's so unbelievable that it comes off as self-parody. As it turns out, the character, I guess, is supposed to be faking the accent, as it completely goes away during her last scene. But if you were playing someone faking an accent, wouldn't you want to make it a good accent, so that their deception being revealed is a surprise? So, bad performance. Unless she's playing it as though the actress is actually really bad, and can't fake an accent, in which case, good performance. Or maybe she just can't hold on to an accent at all, and the character really is supposed to be French, so, bad performance. What the hell? This will bother me for the next week.[/size]
Paul Freitag
The Masque of the Red Death Quotes
There are no approved quotes yet for this movie.
Discussion Forum
Discuss The Masque of the Red Death on our Movie forum!