The Method (El Metodo)
(2007)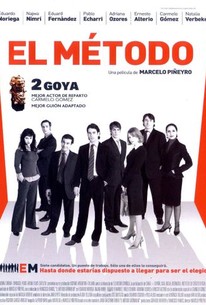 The Method (El Metodo) Photos
Movie Info
Seven candidates compete for an executive position at a multinational company. While the streets of Madrid are filled with anti-globalization demonstrators, candidates are assembled to be put through the final selection process for a single high-level position at a multinational corporation. From the outset, there is a palpably tense, competitive atmosphere among the group. Feelings of distrust increase when they realize they are aspiring for the same position, and that the Gronholm Method (a human resources strategy supposedly imported from the United States) is being used to assess their respective merits. They find themselves pitted against one another in a contest that elicits fear, suspicion, paranoia and betrayal. The humiliation these people are willing to endure or inflict on others for the sake of the job is chilling to witness.
News & Interviews for The Method (El Metodo)
Critic Reviews for The Method (El Metodo)
Audience Reviews for The Method (El Metodo)
½
"El Método" is a very well acted movie shot basically in one set with a brief view of the contemporary wild capitalism through the dispute of qualified applicants to a direction position in a corporation. If you like movies with interesting argument, funny dialogs and very good performances, without any doubt, you'll enjoy with this movie.
½
Good. The play is so much better, though.
Alex Figueroba
Super Reviewer
[font=Century Gothic]"The Method" starts with five men and two women arriving at an office in Madrid for their third and final interview for an executive position with a company. This will be a group interview using the Gronholm Method. Their first task is to determine which of the seven applicants is a mole...[/font] [font=Century Gothic][/font] [font=Century Gothic]Meanwhile outside, protestors have gathered to demonstrate against the World Bank.[/font] [font=Century Gothic][/font] [font=Century Gothic][/font] [font=Century Gothic]"The Method" is an incisive allegory about the abuse of power in a capitalist society. And in the case of corporations, there is a sense of entitlement when they have multiple applicants for the same position and can simply pick and choose however they please. The film highlights an extreme but not totally unrealistic tactic, the Gronholm Method, which turns out to be a complex form of sadistic degradation, setting the candidates against each other in order to tear each other down. So, is the carrot at the end of the stick really worth it? And why do we have to play their games, anyway? This is exactly why the protestors are out in the streets battling with the police.[/font]
The Method (El Metodo) Quotes
There are no approved quotes yet for this movie.