The Mirror
(1998)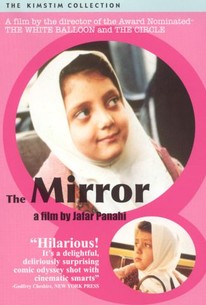 Movie Info
A little Iranian girl's mother neglects to pick her up from school so the child walks home alone through Tehran's bustling streets. It's not much of a story, but this Iranian drama has a neat twist or two that rises above the plot, creating a neat film about filmmaking.
Rating:
NR
Genre:
, ,
Directed By:
Written By:
In Theaters:
On DVD:
Runtime:
Studio:
Celluoid Dreams
Cast
Critic Reviews for The Mirror
Audience Reviews for The Mirror
Brilliant. Beautiful. Like all Panahi films, completely and utterly human and honest. Besides all that, this film goes so far beyond that of ordinary cinema. It starts in one place and ends where you'd never suspect it to. This film is about child hood, cinema, Iran, women, men, life and football. It's incredible. This film is the Iranian stepchild of Symbiopsychotaxiplasm. And it's a definite cousin to Haneke. Panahi is an absolute genius. Without a doubt. Some people are born to live behind the camera. He manages to say so much without giving anything away. See this film, see every film Panahi has made, then you will understand film, yourself, iran and life a little bit better.
Louis Falcetti
½
Ayneh follows a girl who decides to go home by herself after her mother fails to pick her up at school. Her teachers are unhelpful, and the girl herself is too falsely confident to realize that she would get lost, for she doesn't know her address, an...(read more)d only remembers vague aspects of the streets and the daily bus. Without breaking down, she tries to go home by asking unanswerable questions like "can you tell me where my home is" to strangers, running hastily and crossing the dangerous roads of Iran. She gets on a bus, but is confused when the bus stops at an unfamiliar terminus. Suddenly, the girl screams "I don't want to act anymore!" She takes off her traditional clothing, disarming the plaster on her "broken" left arm, and runs off the bus. At this point we learn that Mina, the girl, is an actress. The crews of the film try to persuade her back into the shooting, but she stubbornly refuses and sets off on her feet to go back home, paralleling the film within film itself. Mina, like her fictional character, does not know how to get home properly. The crews use this concurrence to continue shooting the film. By now, we, the spectators, are aware of the camera "spying" on Mina--our subjectivity is the camera's subjectivity; hence, we are responsible for the film's completion, and we (as real humans) are morally responsible for Mina--we worry that she might get injured, kidnapped, or permanently lost if her presence cannot be detected on the camera. Fortunately. Mina still carries her microphone, thus ensuring the ability to track her down. It's quite amazing when Mina leaves the camera's view, we (the crews) are frustrated morally and vocationally, hastily turn the lens around to detect her presence, using the sound as clues to her whereabout. The spectators' multi-subjectivity and Mina's shifting roles are the film's most captivating elements. At first I thought I was going to be let down. The bold Brechtian Alienation technique, while psychologically self-gratifying, isn't very fresh considering film history. However, Ayneh's deconstruction is original--the antipathy of the film's crews towards Mina's safety translates into the spectators' moral guilt; the knowledge: the girl actress is named Mina in real life exaggerates the film's multiple realities; the prolific off-syncing sound and picture technique amplifies the labyrinthine condition of the streets. A film full of devices.
Wut Suthirachartkul
The Mirror Quotes
There are no approved quotes yet for this movie.