The Mistress
(2012)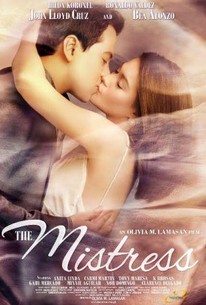 AUDIENCE SCORE
Critic Consensus: No consensus yet.
Movie Info
JD (John Lloyd Cruz) is a young self-made architect, who lives his life away from the affluence and influence of his family. He has turned his back from the responsibilities of the family corporation, mostly out of resentment for his philandering father. Can love change JD and give him the strength to fight for Sari? Will Sari have the courage walk away from her benefactor and take the life of freedom that JD is offering? Or will they both learn that some loves are just not meant to be?
Critic Reviews for The Mistress
There are no critic reviews yet for The Mistress. Keep checking Rotten Tomatoes for updates!
Audience Reviews for The Mistress
Keeping up with Star Cinema's seemingly non-exhaustive obsession with infidelity and anything extramarital, "The Mistress" is the said film production company's latest offering which revolves around some mature issues (yet again) about love. For romantic tandem John Lloyd Cruz and Bea Alonzo, this is their much-awaited jump towards true dramatic maturity, and for Olivia M. Lamasan, this is a great chance for her to prove that Star Cinema has something more to offer other than some frequently rehashed plots and cheap sentimentality. Although I found the film's screenplay (by Vanessa R. Valdez) to be quite strong, I thought that the way the film itself was executed, especially in how the film's ending was decided, is very, very frustrating to the point that I really have given up all my hopes that Star Cinema may one day give us a film that's purely worthy of the commercial successes ("Praybeyt Benjamin", anyone?) that the company itself often undeservedly enjoy. But with that statement, I don't mean to say that "The Mistress" is a bad film. It is, as far as I'm concerned, one of Star Cinema's better offerings, but that is mainly because of the performances. The ever-luminescent Hilda Koronel, after being absent in the local film scene for about 6 years or so, is very good in her comeback role as Ronaldo Valdez's wife. While both Bea Alonzo and John Lloyd Cruz, arguably the only romantic tandem in the country right now that is able to surpass that shallow 'love team' branding by constantly improving their respective dramatic range throughout all these years, have finely highlighted their characters' emotionally incendiary arcs by delivering what may be the most mature performances of their careers. On the other hand, the film's story, about the emotional struggles of a mistress as she criss-crosses between necessary romance (with Ronaldo Valdez's 'benefactor' character) and true love (with John Lloyd Cruz's), is sort of a non-event. Although the film is held together by its own dramatic sophistication mainly because of the cast, the plot suffers because of its predictable familiarity. How many times have we seen that sequence where the mistress, together with her benefactor, gets caught in a restaurant by none other than the benefactor's emotionally on-the-edge wife? How many times have we seen a relatively old character succumbing to a heart attack after a crucial argument? How many times have we seen that awkward confrontation between the mistress and the legitimate wife with a killer dialogue on the side ("Layuan mo ang asawa ko. Tagalog 'yan para maintindihan mo.")? At the end of the day, the real, more generalizing question is this: How often have we seen films like this? Well, the answer is 'all the freaking time'. "The Mistress", a film that's heavily sappy in nature, is surprisingly crisp and articulate about its statements about the nuances of love. It's also an entirely flawed commercial work made fine by the cast's dramatic consistency. Its cinematography is also commendable especially on how it evokes the visuals of an old-fashioned melodrama. Just do not get me started with that opening and final scene. Yes, if you've already seen the film, I'm talking about the opening 'rain' sequence set within the vicinity of a National Book Store branch. But what's even more saddening is the fact that the film must resort to that illusory 'wedding' sequence in its final scene just to make its audience feel better. So what if the characters don't end up together? Get over it and just move on. No need for that unnecessary 'what could have been' scenario. On a final note, if both John Lloyd Cruz and Bea Alonzo have indeed taken a big step towards 'maturity' (as actors) by way of this film, then I think Star Cinema (as a movie studio), in its complete lack of faith on how its audience may react to a less comforting ending by adding that sparkly wedding fantasy, still has a long way to go.
Ivan Descartin
Super Reviewer
The Mistress Quotes
There are no approved quotes yet for this movie.