The Mortician
(2011)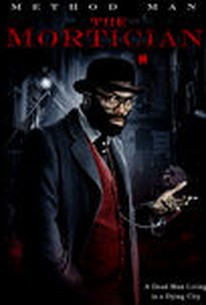 AUDIENCE SCORE
Critic Consensus: No consensus yet.
Movie Info
A haunted mortician wrestles with painful childhood memories while protecting a young boy who recently lost his mother in this dark thriller starring former Wu Tang Clan rapper Method Man. A solitary mortician (Method Man) is tortured by recollections of his mother's death after receiving the corpse recently deceased woman. His quiet life is soon complicated, however, when he discovers a frightened young boy who has been hiding in the morgue hoping to get once last glimpse of his late mother, and escape certain death at the hands of his murderous father. Upon learning the child's tragic secret, the mortician vows to protect him even if it means risking his own life in the process. Dash Mihok and Edward Furlong co-star.
Critic Reviews for The Mortician
There are no critic reviews yet for The Mortician. Keep checking Rotten Tomatoes for updates!
Audience Reviews for The Mortician
The Mortician (Method Man) is a lonely man with a scarred past, the kind of guy who keeps his mind occupied by throwing everything he is into his work. That all changes one night on the way home from work, when he witnesses a crime eerily similar to the one that made him the way he is. The Mortician is content to try to ignore what he saw, until he comes to realize it directly involves the young man he is mentoring and that inaction could destroy another family. This film was a bit of a surprise to me, in that it wasn't the horror film I was expecting. The preview made this film seem like it was horror, as do the title and cover art, not to mention it's on Lionsgate, which has become synonymous with B-movie horror in recent years. Perhaps the even bigger surprise was the star of the film, Method Man. Every single time I have seen him in a film, he's playing some thug or gang banger, so I figured that he was just another one of these rappers that Hollywood uses when they need to fill that type of role, but I was wrong. Despite the ridiculousness of a man who is nearly fifty years old still calling himself, Method Man, he can legitimately act. In fact, this film is quite dark and slow moving, even boring at times, but Method Man and the unique traits of his character, were the most interesting aspect of this film. Maybe I'm rating the film a bit higher than I should be, then again, my expectations were extremely low. The Mortician isn't a horror film and it doesn't move at a quick enough pace to even be labeled a thriller. The story is a decent one, albeit one that takes forever to get going, and the acting is much better than I would have expect from this cast. The Mortician wouldn't be my first choice by any means, but if you have the opportunity, I wouldn't skip it either.
Todd Smith
Super Reviewer
½
While everything else is falling apart around him in a city, The Mortician(Method Man) goes to work dutifully and punctually, even with all the threats and violence, while taking special interest in one dead body. As far as live ones go, he has little interest except that of a friendly prostitute and grateful customers for his taxidermy work. So, as you can imagine, good help can be hard to find, as Noah(EJ Bonilla) has to work in the morgue as a condition of his parole. "The Mortician" has some of the elements of a decent B-thriller, starting with the title character's look and the urban decay all around him that is almost but not quite apocalyptic which I was thinking at first could be metaphorically New Orleans or Detroit before learning the movie was actually filmed in New Orleans. But then there is the impossibly bucolic small town that serves as a resolution for a weak psychological subplot. Otherwise, the movie's main mystery plays out in the most perfunctory manner possible.
The Mortician Quotes
There are no approved quotes yet for this movie.