The Muppets
(2011)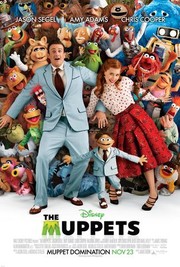 TOMATOMETER
AUDIENCE SCORE
Critic Consensus: Clever, charming, and heartfelt, The Muppets is a welcome big screen return for Jim Henson's lovable creations that will both win new fans and delight longtime devotees.
The Muppets Trailers & Photos
Movie Info
On vacation in Los Angeles, Walter, the world's biggest Muppet fan, and his friends Gary (Jason Segel) and Mary (Amy Adams) from Smalltown, USA, discover the nefarious plan of oilman Tex Richman (Chris Cooper) to raze the Muppet Theater and drill for the oil recently discovered beneath the Muppets' former stomping grounds. To stage The Greatest Muppet Telethon Ever and raise the $10 million needed to save the theater, Walter, Mary and Gary help Kermit reunite the Muppets, who have all gone their separate ways: Fozzie now performs with a Reno casino tribute band called the Moopets, Miss Piggy is a plus-size fashion editor at Vogue Paris, Animal is in a Santa Barbara clinic for anger management, and Gonzo is a high-powered plumbing magnate. -- (C) Walt Disney
more
Cast
News & Interviews for The Muppets
Critic Reviews for The Muppets
Audience Reviews for The Muppets
i have to start by saying that i grew up on the muppets, that im a huge fan, that i loved watching this film, and that i thought it was very solid, thus the solid score. i had some big issues, but lets start with the good. well, really the only good we need is the muppets. theyre just amazing. i dont own a kermit watch, but i understand walter's fandom. we should really be getting a new muppets film every few years. however, i had some issues here as well. my kids laughed at the fart jokes, but they are really sub standard for muppets material, and felt out of place. the big show that the film led to was very underwhelming. i hoped for something involved. the celebrity appearances were also underwhelming, and a bit disappointing in terms of purpose. the end was rushed and very anti climactic, and was weakened by an obvious plot hole in the development of the major conflict in the film. and my biggest issue was that the entire plot device of "we dont talk and need to get the band back together" undermines the frequency of their activity over the past few years, such as their network Christmas special just a couple of years ago, and the establishment of their lore and material of previous muppets films and tv shows. i know it sounds like im being overly critical of a movie with a bunch of puppets, but they are more than puppets to me. it didnt have to be perfect, but i did want the film to respect previous continuity of the characters, and this is one of the main things i felt that it was weak in. i was also disappointed that we didnt get any rizzo. apparently he was in a scene, but he didnt speak, and i missed him altogether. overall, i actually did really enjoy it, im glad it got made, and i hope that we dont have to wait too long to see these characters again.
The Muppets Quotes
Gary: So you guys aren't getting back together?
Kermit: No.
Mary: This is going to be a really short movie.
Rowlf: How come you didn't use me in the montage? I thought my story was pretty interesting.
Kermit: Rowlf?
Rowlf: Huh?
Kermit: You wanna get back together?
Rowlf: Okay. Classic.
Animal: No drums! No drums! Jack Black said no drums!
Walter: Wow Gary, I think it's so cool you're taking Mary to Los Angeles! I can't believe you guys have been dating for ten years!
Gary: Well, yeah, Mary wanted to do something really special for our 10th anniversary, and she's always wanted to go to Los Angeles!
Walter: Make sure and send me a postcard from the muppet studios!
Discussion Forum
Discuss The Muppets on our Movie forum!
News & Features