The Nun's Story
(1959)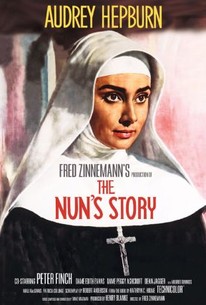 Movie Info
Audrey Hepburn stars in The Nun's Story as Sister Luke, postulant of a Belgian order of nuns. Though frequently disillusioned in her efforts to spread good will -- at one point she is nearly killed by a mental patient (Colleen Dewhurst) -- Sister Luke perseveres. Sent as a nurse to the Belgian Congo, an assignment she'd been hoping for, Sister Luke is disappointed to learn that she will not be ministering to the natives but to European patients. Through the example of no-nonsense chief surgeon Peter Finch, the nun sheds her idealism and becomes a diligent worker -- so much so that she contracts tuberculosis. Upon the outbreak of World War II, Sister Luke tries to honor the edicts of her order and not take sides, but this becomes impossible when her father (Dean Jagger) is killed by the Nazis. Realizing that she cannot remain true to her vows, Sister Luke leaves the order and returns to "civilian" life. The Nun's Story ends with a long, silent sequence in which Sister Luke divests herself of her religious robes, dons street garb, and walks out to an uncertain future. There is no background music: director Fred Zinnemann decided that "triumphant" music would indicate that Sister Luke's decision was the right one, while "tragic" music would suggest that she is doing wrong. Rather than make an editorial comment, the director decided against music, allowing the audience members to fill in the blanks themselves. The Nun's Story is based on the book by Kathryn Hulme, whose depiction of convent life was a lot harsher and more judgmental than anything seen in the film. ~ Hal Erickson, Rovi
Rating:
NR
Genre:
,
Directed By:
Written By:
In Theaters:
On DVD:
Runtime:
Studio:
Warner Home Video
Critic Reviews for The Nun's Story
Audience Reviews for The Nun's Story
It's wonderful to catch up with classic films that may have lost of their buzz over time. THE NUN'S STORY is truly perfect work but not one that is mentioned in the same breath as other classic films from great directors like Fred Zinneman and star Audrey Hepburn. This sublime film is subtle to the extreme. Almost flat in fact, depicting the inner struggle of a nun who wishes nothing more than to be a citizen of the world, something the convent does not allow. THE NUN'S STORY takes its time. There is no emotion. No evil. No greatness. Just the struggle to define one self and become the person you must be. Simply stunning and perfect!
Michael Lupetin
Audrey Hepburn is superb as the nun who undergoes a number of personal changes as a sister in an order of nuns. The ending is blunt in a positive way.
John Ballantine
Super Reviewer
Having been raised in a Catholic School, this paints a pretty accurate pic of nuns -- I'm sorry she left, because she had more common sense than all the others
Tom Ericksen
Super Reviewer
The Nun's Story Quotes
| | |
| --- | --- |
| Gabrielle Van Der Mal: | Prayer: "Lord, the more I try, the more imperfect I become. I seem to fail in charity, humility, and obedience. Pride is not been burnt out of me. When I succeed in obeying the rule, I fail at the same time because I have pride in succeeding." |
| Gabrielle Van Der Mal: | Lord, the more I try, the more imperfect I become. I seem to fail in charity, humility, and obedience. Pride is not been burnt out of me. When I succeed in obeying the rule, I fail at the same time because I have pride in succeeding. |