The Open Door
(2008)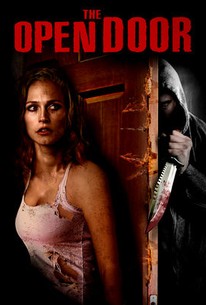 AUDIENCE SCORE
Critic Consensus: No consensus yet.
Movie Info
A mysterious pirate radio host with the power to grant wishes wrecks havoc on a group of high school teenagers caught up in the cut-throat race for popularity. Angelica (Cathrine Georges) is a pretty but naïve high school senior who has recently fallen under the spell of Staci (Sarah Christine Smith), a popular girl whose bad influence is beginning to rub off on her. Meanwhile, as her parents voice their concerns about the friendship, Angelica starts to develop a major crush on friendly football player Brad (Mike Dunay). But charismatic Owen (Ryan Doom) is determined to have Angelica all to himself. With the full moon lighting up the night sky and football frenzy kicking into overdrive, Angelica gets grounded by her parents, and toys with the temptation to sneak out and party with her friends. She's convinced that Brad is bound to hook-up with bad girl Heather, and in desperation she phones in to the pirate radio program to ask the host for advice. Much to her surprise, Angelica is informed by the Oracle that everything will work out in the end. But Owen's mischievous pal Spike (Daniel Booko) has just learned that Angelica is all alone in her house for the night, and when the boys stop by to play an elaborate prank on their credulous classmate, all hell breaks loose.
Critic Reviews for The Open Door
Audience Reviews for The Open Door
hahaha this movie was terrible. The acting was bad, but it actually seemed like the actors were trying to be good. Therefore I give them all an A for effort. The writing was bad and the whole thing was filled with cliches. There was one part though where the rich girl was like "I don't work; I'm not a mexican" or something like that and it was hilarious haha. I laughed. But I honestly didn't watch much of this. It just wasn't good and I could tell it wasn't going anywhere. Also at the beginning the movie a bunch of words show up and it starts telling me a story and giving me background information about what happened/is happening. That pisses me off. If I wanted to read, I'd read a book. Movies are for showing, so please show me the story and don't tell me the story. The background information given to the audience at the beginning was pretty unnecessary anyway considering the characters in the movie repeat the information so you have a good idea about what is happening. There was no need to be redundant.
The Open Door Quotes
There are no approved quotes yet for this movie.
Discussion Forum
Discuss The Open Door on our Movie forum!