The Oscar Nominated Short Films 2013: Animation
(2013)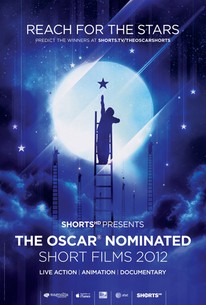 The Oscar Nominated Short Films 2013: Animation Photos
Movie Info
Adam & Dog - (director: Minkyu Lee, USA) The story about the dog of Eden. What happened in those first days of Creation that made Man and Dog so inseparable? The dog, as he lives through this curious world, encounters a strange creature; a human being named Adam - and with that discovers a new found connection to the world. Fresh Guacamole - (director: PES, USA) Learn how to transform familiar objects into Fresh Guacamole! Head Over Heels - (director: Timothy Reckart, UK) After many years of marriage, Walter and Madge have grown apart: he lives on the floor and she lives on the ceiling. When Walter discovers a long-lost memento of their wedding day, he tries to reignite their old romance. But it brings their equilibrium crashing down, and the couple that can't agree which way is up must find a way to put their marriage back together. Maggie Simpson in 'The Longest Daycare' (director: David Silverman, USA) Maggie Simpson spends a day at the Ayn Rand Daycare Center where she is diagnosed at an average intelligence level. Longing to be grouped with the gifted children, Maggie finds her destiny by rescuing a lonely cocoon from Baby Gerald, who is busy smooshing butterflies. Paperman -(director: John Kahrs, USA) Paperman follows the story of a lonely young man in mid-century New York City, whose destiny takes an unexpected turn after a chance meeting with a beautiful woman on his morning commute. Convinced the girl of his dreams is gone forever, he gets a second chance when he spots her in a skyscraper window across the avenue from his office. With only his heart, imagination and a stack of papers to get her attention, his efforts are no match for what the fates have in store for him. (c) Shorts International
Critic Reviews for The Oscar Nominated Short Films 2013: Animation
Audience Reviews for The Oscar Nominated Short Films 2013: Animation
½
The five animated shorts nominated for an Academy Award this years, plus some bonus shorts to round out the running time. The nominees are the fun but slight 2-minute stop-motion "Fresh Guacamole"; the clever standalone Simpsons short "The Last Day Care"; Disney's romantic "Paperman"; "Head Over Heels," about a wife who lives on the ceiling while hubby takes the floor; and "Adam and Dog," about man's first encounter with his canine pal in the Garden of Eden. Curiously, none of the nominated shorts have any dialogue. The black and white "Paperman" looks great and is the prohibitive favorite, but my vote would go to "Adam and Dog" for the best combination of visual artistry and storytelling. Overall a bit of an uneven and even a weak field (comparitively speaking) make this a worthwhile but innessenial compilation.
The Oscar Nominated Short Films 2013: Animation Quotes
There are no approved quotes yet for this movie.